Birding & Wildlife Watching at Kirkennan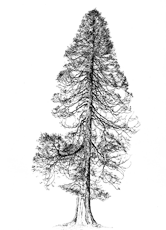 Kirkennan is an ideal holiday location for birding and nature travels. The Estate itself has woodland, garden, field and tidal river habitats; roe deer, red squirrels, at least 5 kinds of bat, kingfishers, otters, barn and tawny owls, badgers, and much more might be spotted without leaving the Estate. We also have our own photography hide in Jock's wood where you can adjust the background and position of feeders etc. This is frequented by a range of garden birds and has been visited by red squirrels.
Looking for comfortable self catering holiday accommodation set in beautiful grounds rich in wildlife? Take a look at our 3 holiday cottages.
Dumfries and Galloway: A birding, nature and wildlife haven
Dumfries and Galloway is a beautiful and varied area rich in birdlife and nature. Here you can find mountains, moors, lochs, woodlands, coastal, river and farmland habitats. Two miles away are the shores of the inner Solway Firth, one of the most important winter estuaries for birds in Britain, holding up to 40,000 wildfowl and 83,000 waders. Inland areas of Dumfries and Galloway also provide interesting opportunities for birding with the possibility of seeing nesting ospreys, red kites feeding and a myriad of other bird species. Mersehead Nature Reserve has a population of the rare natterjack toad and in winter 2019 there were spectacular starling murmurations that could be viewed from Mersehead. It is thought that Dumfries and Galloway has the largest population of otters in mainland Scotland; they are quite often photographed on The Nith (a river that runs through Dumfries) and we do see footprints on our boundary Urr water. Indeed there is something to see in every season. A number of recommended birdwatching and nature sites near Kirkennan are listed below.
The area is also renowned for its varied walks, beautiful coastline, historic sites and gardens to visit. More information can be found on Nearby Attractions.
A unique way to see wildlife

Nocturnal Wildlife Experiences, based in Castle Douglas (7 miles from Kirkennan), offer a new and unique wildlife opportunity - the chance to see wildlife in a totally different light. Keith Kirk, an experienced wildlife photographer and guide, will guide one or two people to view nocturnal wildlife in its natural habitat by using state of the art thermal and night vision equipment.

Tours can take place in a variety of local nature hot-spots including Kirkennan itself. You will head out into the darkness with your personal thermal camera capable of recording everything you see. Find out more by reading my blog. Tours can be arranged with Keith on 07769 182058.

The Solway Coast was hit by Squirrel pox introduced by grey squirrels in 2019. This has devastated the previousy large squirrel population at Kirkennan. This is now starting to recover with Jock reporting six different red squirrels visiting his feeders. There is also a healthy population around Glen Isle, Palnackie and red squirrels can be viewed at the Barrhill red squirrel hide just outside Kirkcudbright. This is open from 8am and is free to use.
This photo was taken in April at Kirkennan.

Roe Deer

Roe deer can often be seen in Kirkennan's fields and woodland. You might even startle them on the Estate roads when driving back in the evening. In 2020 we found a distinct Roe deer circle around the picnic table in Jock's wood.

Encouraging Wildlife

We try to manage the Estate to encourage wildlife. The gardens are run organically and piles of deadwood are left in the woodland to provide habitats.

The photo shows a willow warbler feeding her chicks on the fence by Woodsedge Cottage.
You can read more about how we monitor wildlife at Kirkennan in our blog. If you are staying at Kirkennan we welcome your help - you can add your wildlife sightings to our online database.

Spring

Spring is a great time for your holiday when nature travels offer the chance to see young animals such as this roe deer kid photographed in a field near Kirkennan

Birdwatching near the Urr

Kirkennan is bounded by the tidal Urr water. Goldeneye, wigeon, teal, goosander, shelduck, lapwing, curlew, redshank, and greenshank can be seen on or near the river. If you are lucky and patient you might also see otters.

The photo of a dipper on the Urr was taken upstream from Kirkennan.

Red Kites

Red Kites were re-introduced into Dumfries and Galloway in 2001 and are thriving; they are often seen circling above Kirkennan. A highlight of any visit for bird lovers is the Red Kite Trail (15 min drive to start) & the Red Kite Feeding Station (20 min). The trail is an anticlockwise route of some twenty four miles around Loch Ken (winter) with an additional fourteen miles of forest drive (summer only) which is a great place to view spectacular red kites in beautiful scenery. Kites are fed at 2pm daily at Bellymack Hill Farm. A visitor in Sept 15 noted 'Our afternoon at the feeding station was a highlight of our stay - highly recommended'.

Autumn is another great time for nature travels to Dumfries and Galloway. At this time Kirkennan is full of birds enjoying the berries in Jock's wood.

Attention Photographers!

For keen birding photographers a session in the Scottish photography hides just 25 minutes away from Kirkennan is a must. These were featured on Autumn Watch in 2015 and provide wonderful locations for taking photos of a range of wildlife all year round.
We also have our own photography hide at Kirkennan set within Jock's wood where you can arrange feeders or views to suit your needs. There is no charge for using this for guests staying in our one of our 3 holiday cottages. Local wildlife photographer Keith Kirk can be hired to give photography tuition from our hide.

Adders and Amphibians

If you are very quiet (and lucky!) adders can sometimes be found sunning themselves on rocks in the surrounding area. This photo was taken on the walk from Kippford to Rockcliffe in late August.

Rare natterjack toads can be heard (and possibly seen) at the nearby RSPB nature reserve of Mereshead.
Birding and nature sites near Kirkennan
Doach Wood (FCS) (5 min drive) Conifer forest with waymarked trail and some 40m high Douglas Firs. Here birdwatchers can see Siskin, Common Crossbill, Buzzard, Raven, Green and Great Spotted Woodpecker.
Carlingwark Loch, Castle Douglas (15 min drive) This freshwater loch at the south end of Castle Douglas has willow and alder carr and reedbeds where you may see Great Crested Grebe, Little Grebe, Goldeneye, Tufted Duck, Coot and other waterfowl. In July and August you can find moulting Mute Swans. There is a 3.5 mile circular walk with a small viewing hide overlooking a secluded part of the loch.
Sandyhills to Portling to Rockcliffe to Kippford cliff top walk (20 min drive) a spectacular walk with seascapes, islands, headlands and cliffs. In May - early July the sea bird activity is at a peak and the thrift, English stonecrop, bladder campion and thyme bloom. You will pass a colony of cormorants and may see yellowhammer, linnet, whitethroat, whinchat, stonechat and willow warbler. It is also a good place to see butterflies including orange tip, common blue, small tortoiseshell, meadow brown, wall brown and grayling. Adders can also occassionally be seen sunning themselves on a rock.
Threave Estate and Wildfowl Reserve NTS (15 min drive). In the surrounding farmland, woodland, marshes, and river you can see Greylag, Pink-footed and Greenland white-fronted Geese, Whooper Swans and other wildfowl, including occasional Smew. Summer visitors include Osprey (which nest here - the nest can be viewed through a cam), Pied Flycatcher, Common Whitethroat, Sedge Warbler, Grasshopper Warbler. In the winter you may see raptors. It is also a good place to see bats. Also worth visiting are Threave Gardens and Threave Castle. There is an all ability access path to one riverside hide from the Threave Castle car park.
Balcary Heughs (15 min drive) A beautiful circular walk along steep cliffs and through woodland and farmland where you can see Fulmar, Cormorant, Guillemot, Razorbill, Kittiwake, Rock Pipit, Linnet, Stonechat. There are also birdwatching opportunities along the shore road to Balcary (Shelduck, waders and gulls).
Mersehead RSPB (approx 20 min drive) an extensive wetland and saltmarsh area and haven for breeding waders, wintering waterfowl and year-round bird and wildlife-watching. It fills with lapwing and skylarks in Spring and barnacle and pink-footed geese in the winter.
Ken-Dee Marshes (approx 25 min drive) a RSPB wetland and woodland reserve with great views across the River Dee and Loch Ken. Ken-Dee Marshes play host to greenland whitefronted and greylag geese in winter and redstarts and pied flycatchers in Spring. Willow tits are resident all year round.
Cally Woods FCS (approx 30 min drive). Oak woodland and mixed forest where you can see Great Spotted Woodpecker, Buzzard, Jay, Woodcock.
Caerlaverock Wetland Centre (approx 45 min drive) a 1,400 acre wild reserve of the Wildlife Wetlands Trust is situated on the north Solway Coast. It is famous for its barnacle geese and other winter visitors. In January 2015 it was named by the BBC Wildlife Magazine as the first of its 10 best places in the UK for winter birdwatching. Chris Packham agrees - he included it in his top 5. Caerlaverock also has nesting Ospreys and a viewing cam.
Raiders Road Forest Drive FCS (approx 45 min drive to start) This is a 10 mile route along an untarred forest road that is open Easter to the end of October (there is an admission charge). It passes through conifer plantations, birch woodland and by lochs and rivers. Siskin, Common Crossbill, Red Kite, Buzzard, Grey Wagtail, Dipper, Common Sandpiper, Nightjar can all be seen. On Loch Stroan you may see Great Crested Grebe and Goldeneye. There is a tearoom and toilets at Clatteringshaws Visitor Centre. It is also possible to stop by Otter pool for a picnic (accessible toilets).
Carstramon Woods SWT (approx 50 min drive). Take the footpaths through oak woods to see springtime bluebells, Redstart, Pied Flycatcher, Wood Warbler and Buzzards.
Papy Ha Bird Trail, Galloway Forest Park (approx 50 min drive). This trail is designed to take in as much as possible in one circular 3.5 mile walk on which more than 100 species can be seen including whinchats, willow warblers,whitethroats, grasshopper warblers, tree pippits, chiffchaffs and garden warblers.
Wood of Cree RSPB Reserve (approx 55 min drive) is said to be the largest and most important area of ancient woodland left in the south of Scotland. Here you can find mosses, liverworts, and the minute Wilsons filmy fern. In summer grey wagtails and dippers inhabit Cadorcan Burn which runs through the site. In spring the site is known for its bluebells. At the woodland margin redstart and tree pippin can be found and in the woodland itself there can be as many as 40 pairs of wood warbler - arriving in May and usually leaving by late July. In the moorland and scrub has high numbers of willow warblers and garden warblers and a few pairs of redpolls and siskin. In other areas goldcrest, tree pipits, redstarts, whitethroats, whinchats, grasshopper warblers can all be seen. Adders sunning themselves are also a common sight.
Manquhill circular walk (approx 1 hour drive to start): 5.5 - 7.5 km circular walk through conifer and broadleaved plantations passing ponds and hill grazing. Here you may see Skylark, Meadow Pipit, Raven, Kestrel, Curlew and in winter Merlin and Hen Harrier.
Further details and ideas can be found in Solway Coast Heritage Trail: Wildlife and Landscapes, Welcome to Wildlife in Dumfries and Galloway, Wild Seasons, Birdwatching in Dumfries and Galloway, Galloway RSPB recommendations of places to see birds and Birdwatching in the Galloway Forest Park.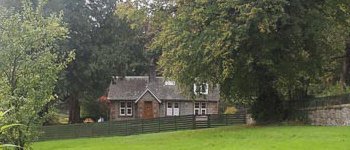 The Lodge which features a large enclosed garden and an open fire used to form the entrance Lodge to Kirkennan. Great for children and dogs.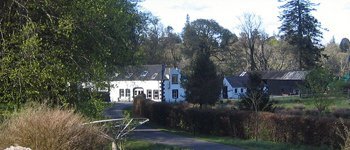 The Mews looks out over Kirkennan's landscaped gardens and provides comfortable accommodation for up to 5 with a wood burning stove for cozy fire side evenings after a day's nature watching. Red squirrels and woodpeckers can frequently be viewed from the sitting room.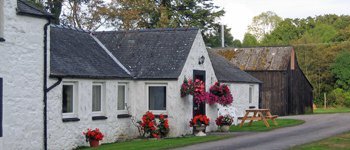 Woodsedge is all on one level and has its own enclosed garden at the rear. It is ideal for those with limited mobility, particularly if you want to holiday with dogs. A bird feeder outside the sitting room window provides for comfortable enjoyment of wildlife.