Historic sites near Kirkennan Estate
Self catering Holidays, Dumfries & Galloway, Scotland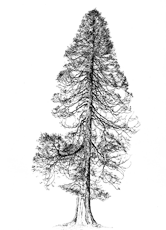 From neolithic times to early Christianity, castles to ruined abbeys, Covenanter martyrs and smugglers: Dumfries & Galloway, Scotland is rich in historic sites and monuments and Kirkennan Estate is a great base from which to visit them during your holiday. Swipe through some of the options below or for more choices take a look at the list beneath.
Ruined Abbeys

The photo shows Sweetheart Abbey at New Abbey on the coastal road from Dumfries to Kirkennan. This romantic ruin was founded by Lady Dervorgilla in tribute to her beloved husband, John Balliol.

Dundrennen Abbey a ruined 12th century home of Cistercian monks is also worth visiting. This is where Mary Queen of Scots spent her last night on Scottish soil before fleeing to England. It is on the coastal route from Kirkennan to Kirkudbright.

Historic Churches

The photo shows Wigtown Church where the graves of two covenanter martys can be found. The ruins of Buittle Church only 10 minutes from Kirkennan is also worth a visit.

Robert the Bruce Trail

Robert the Bruce, thought by some to be Scotland's greatest king, had strong connections with Dumfries & Galloway where his family home was located. Dumfries is where the murder of the Red Comyn initiated the Wars of Independence which eventually secured freedom for Scotland. The Bruce Trust has put together four trails so you can trace the locations of important events in Robert the Bruce's life; Kirkennan is well located to access them all during your holiday.

The photo shows the Robert the Bruce Memorial overlooking Trool loch in Galloway Forest Park.

Early Christianity

Whithorn, Dumfries & Galloway, is thought by some to be the site of the first Christian church in Scotland. Saint Ninian is said to have founded the first Scottish monastary here around AD400. The Whithorn Story Visitor Centre is a good place to start to learn about early christianity in Scotland.

The photo shows Saint Ninian's Chapel which is on a hill just outside The Isle of Whithorn, about 3 miles south of Whithorn. A visit to the evocative Saint Ninian's Cave is also highly recommended.

Prehistoric Sites

There are signs of the early inhabitants of Dumfries & Galloway all over the countryside - and most can be visited at any time of day without any restrictions.

The photo shows Cairn Holy a prehistoric burial site in an atmospheric location with great views. 'A wonderful spiritual place' (Guest, Sept 17)

The photos at the top of this page include Torhouse Stones, a Bronze Age stone circle of 19 large granite boulders.

Near Kirkcudbright you can visit High Banks Cup and Ring Marks - thought to be a form of prehistoric art.

Towers and Castles

Dumfries and Galloway is rich in towers and castles. The photo shows Orchardton Tower which dates from the mid 1400s and is the only freestanding round tower of its type in Scotland. It is well worth a visit and is only 10 min drive from Kirkennan. It is free to enter (donations welcome) and is open all the time.

Other nearby castles include:

Threave Castle, just outside Castle Douglas - the 14th century stronghold of Archibald the Grim on an island in the river Dee which has to be reached by ringing a bell to call the boatman. [Dogs can walk to the jetty, but are not allowed on the boat].

Caerlaverock Castle a well preserved medieval triangular castle.

Other castles include: MacLellan (Kirkcudbright), Cardoness (Gatehouse of Fleet), Castle Kennedy (Stranraer).

Take a tour with the experts

Lesley and Mark at Solway Tours can pick you up from Kirkennan and provide a personalised tour of historic sites and hidden gems in Dumfries and Galloway from half a day upwards for up to 6 people. You can choose a day tour such as D & G in World War I, Castles and Kids, Robert Burns, or Robert the Bruce or they can tailor your itinerary to suit your interests covering some amazing historic sites and fantastic Scottish scenery. They are both experienced historians and offer to 'delight and regale you about the historic and cultural sites of Dumfries and Galloway and beyond'. Your tour experience will be enhanced further by being chauffeur driven in their comfortable and stylish seven seat eco friendly Renault Grand Scenic.

This highly regarded business is the DandG Life Tourism Champion Winner 2016 and is five star rated by Visit Scotland.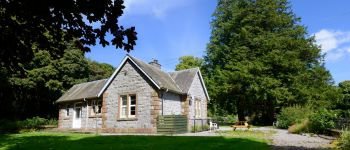 The Lodge is our largest property and is set on within its own large garden. It is a great location for self catering family holidays and, like all of our cottages, is dog friendly.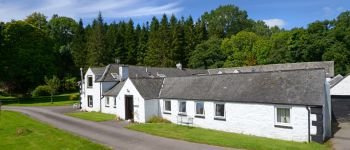 Woodsedge is a comfortable cottage all on one level with an accessible wetroom, comfortable dining/sitting room (featuring an open fire) and an enclosed rear garden. Child and dog friendly.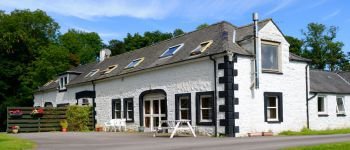 The Mews provides cozy accommodation in what historically was the Estate Office. If features a wood-burning stove in the sitting room and a seperate dining room. Child and dog friendly.