Kirkennan's landscaped gardens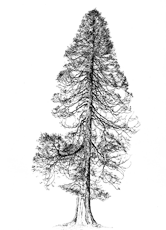 Kirkennan is a wonderful place to wander round at any time of year. It was the mature trees that first attracted us to Kirkennan, and we continually marvel at what enjoying them at different seasons adds to our lives. We try to capture this spirit of Kirkennan through our logo above, which is a wonderful etching by local artist Pamela Grace of a mature giant sequoia on the lawn outside the house.
The paths through the main landscaped garden are paved and thus wheelchair accessible, alternatively guests staying in Woodsedge can borrow our mobility scooter to enjoy them.
You can find out more about our 3 holiday cottages using the links below