Kirkennan's Grounds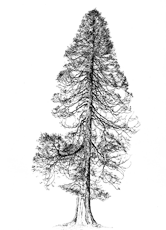 Kirkennan is a compact Estate, situated just outside Palnackie. It consists of 74 acres, the majority of which guests are welcome to explore. Its known history dates back to 1647. We have a 14 acre wood known as Jock's Wood where you are welcome to let dogs off the lead if you consider it safe. This is linked to a new wood that guests can also use. There is a Victorian walled garden split into flower, vegetable and fruit sections which we manage organically with wildlife in mind - do not expect it to be manicured! The Estate is bounded on the East by the Urr water, a tidal river which flows past Palnackie then Kippford to the Solway Firth. There is a small arboretum of specimen trees and the rest of the landscaped gardens are known as the policies. A range of wildlife can be seen in and around the Estate.
We have a key focus on sustainability and are taking steps to reduce our carbon footprint and to encourage wildlife. We are proud to have been awarded Gold by Green Tourism.
History

We have deeds for Kirkennan Estate going back to 1647 – at this time the Estate was much larger. We think the centre of the original house is 17th Century. It has been extended 3 times: to build each side with a bay window, and then in the 1970s to build the breakfast room, conservatory and garage.

The house was originally built on the same level as the stables but Wellwood Maxwell (4 owners ago) had a 'ha-ha' built around the house using soil dug from the 'sand-pit field' – now part of Jock's wood. We understand that the purpose of this was to enhance the view so that the fence around the fields could not be seen from the house.

The Estate road was at one time the main Dalbeattie – Palnackie road as can be seen on old pictures, but Colonel Maxwell (3 owners ago) arranged for a new road to be built further west.

The Walled Garden

The walled garden is Victorian and at that time would have produced much of the vegetables and fruit required by the house – a situation we are working towards recovering.

The current greenhouse stands where there used to be a melon house. The highest wall used to have a glass vinery and the stone patio at the end of the garden nearest the house was an Arum lily conservatory intended to provide the house with floral decoration.

Both of these were heated from the ruined building in the corner which was the stoke hole. The chimney for this runs under the estate road and comes out somewhere within the policy wood.

Jock's Wood

Jock's Wood was planted about 30 years ago and is primarily oak. The wood was planted on what used to be called the sandpit field as it is where sand was dug to build the 'ha-ha' around the house. There are various paths cut through the 14 acres which you are welcome to explore.

The wood is named after Jock Smith who planned and planted it. Jock has lived at Kirkennan most of his life was the gardener at Kirkennan for many years. He still lives on the Estate in Kirkennan Yard (next to The Mews) and is a great source of information

The Urr Water

The river which forms the boundary of Kirkennan on the east side is tidal. Tide tables can be found at http://www.tidetimes.org.uk/. In the past this river was navigable by quite large ships including Dutch schooners up to Dalbeattie. These would be pulled by horse.

The Urr is a salmon river. If you want to fly fish you can contact Dalbeattie Angling Association who sell day tickets for salmon fishing further upstream. Along Kirkennan salmon can only be caught by Haaf netting – and old form of fishing that is now rarely seen.

Wildlife

Various wildlife can be seen on Kirkennan Estate and in the surrounding areas. Down by the Urr water if you are very quiet you might be lucky to see otters or a kingfisher flashing by.

Various species of duck can also be seen on the water in winter including goldeneye, wigeon, teal, goosander, shelduck. Lapwing, curlew, redshank, and greenshank also frequent the river. Red squirrels can be seen in the grove of spruce trees by the North gate. Wild garlic can be collected by the brook that flows along the edge of this area in the spring.

Biomass Heating System

Kirkennan House and three of the cottages on the estate are heated using a recently installed biomass district heating system. The boiler, which is located in the barn, is fuelled by woodchip. The heated water is then pumped underground up to 160 metres, providing plenty of heat and hot water where it is required.

It is a technologically advanced and very efficient heating system. If you are interested in seeing it in action Michael will be pleased to show you. But be warned; he could talk your ear off about it.

The Arboretum

Planted from 1973 onwards, the Arboretum at Kirkennan Estate has a number of specimin trees. These include Liquidambar styraciflua (more commonly known in the UK as sweet gum), it is recognisable by the combination of its five-pointed star-shaped leaves and its hard, spiked fruits.

Also in the Arboretum, among many other fine specimins, guests can see an Arctic Beech; these trees can typically grow to 25m (80 ft) tall and some have been known to grow to around 50m.

The Policies

The rest of the land around the house including the woods, shrubbery and lawns are known collectively as 'The Policies' (landscaped gardens). They contain a number of specimen trees. We are told there are a number of rare silva pine trees (but we don't know the exact species). The big wellingtonia redwood (Sequoiadendron giganteum) is nearly 200 feet tall. It was measured last in 1985 when it was 182 feet high and 21.5 feet in girth at chest height. There are also a wide variety of rhododendrons and azaleas which are at their best in May. Kirkennan is also known for its spring flowers – in particular daffodils which bloom in their 1000s around April.

There used to be a bridge over the road connecting the two parts of the Estate (these were sold separately in 2013). You may find remains of this if you explore the hilly area. There also used to be 'woodland walks' among these trees – all fairly overgrown now, though you are welcome to push your way through. We do intend to open these paths up again at some point. More photos of the landscaped gardens

Wood by North Gate

Some of the Norway Spruce trees by the North gate are over 100 years old. Others were planted about 70 years ago as Christmas trees, but then the bottom fell out of the market and they were left to mature. The hut in Jock's wood was largely made from windfall trees from this wood.

Red squirrels can be seen in this area.

Kirkennan Estate

Kirkennan Estate is a small Scottish Estate of 74 acres, just outside Palnackie in Dumfries and Galloway, South West Scotland near the Solway Coast. It has deeds going back to 1647.
Kirkennan through the year
Kirkennan can be beautiful to visit any time of year. Here are pages with more information on visiting in autumn or in winter. [Pages on other seasons to follow]
Surrounding Countryside
The cottages provide stunning vistas over the surrounding countryside of South West Scotland, and the fields are rented out to a local farmer. Guests on vacation are welcome to walk through them to access the river etc, but please do not disturb any livestock, ensure you close any gates and do be careful about keeping your dog under control.
01556 600 438 or 07896 337 079jenny@kirkennan.co.uk
Woodsedge Cottage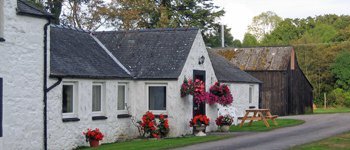 All on one level vacation home rental. Living room with open fire. Kitchen. Wheelchair-accessible shower room.
Kirkennan Lodge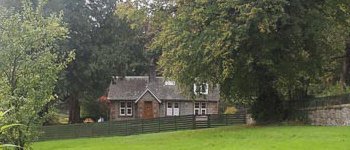 Ground floor: Living room with open fire. Dining room. Kitchen. 4 bedrooms: 1 double, 1 twin, 2 singles.
Kirkennan Mews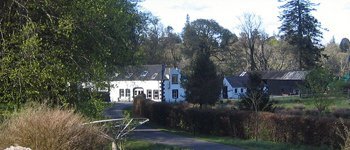 Ground floor: Living room with multi-fuel stove. Dining room. Kitchen. Shower room with toilet.