A unique opportunity to see wildlife at night using thermal imaging cameras guided by an expert. I loved my Nocturnal Wildlife Experience...
A friend and I were lucky enough to go on a Nocturnal Wildlife Experience earlier in the week guided by wildlife expert Keith Kirk. We met after dark at the car park for Threave Castle (approx 15 min drive from Kirkennan) where Keith explained what we would be doing and how to operate the thermal imaging cameras we would be using. These are able to pick up the infra-red light emitted by anything with heat and produce a picture showing the temperature pattern. They can also be used in reverse so that the hottest areas show up black.
We started in the nearby field so we could get used to the equipment. Here we immediately saw a number of hares. Given how hard it can be to see hares in daytime it was wonderful to see how many of them could be found feeding in the nearby fields at night. Keith explained how if they are not disturbed they tend to sit in one place and eat the circle of grass around them before lazily moving a short distance to nibble another circle. It is interesting to see how much heat is lost through the hare's ears - which show up clearly on this video clip -compared to its relatively well insulated back.
We then started to walk along the route to Threave Castle stopping frequently to scan the fields for signs of life. We saw birds standing in a field that Keith was able to identify as Snipe rather than Woodcock just by the distance between them - apparently Snipe tend to stand closer together than Woodcock. We also spotted numerous roe deer who seemed totally oblivious of our presence...

When we got to Threave Castle this also could be seen clearly, presumably due to the heat the stones absorb during the day. In the photo a roe deer can just be seen at the left hand side of the building.
For most of our experience we had the whole of the fields and paths around Threave Castle entirely to ourselves. Then suddenly in the distance we saw a line of glowing bodies - it was the local jogging club out for evening exercise.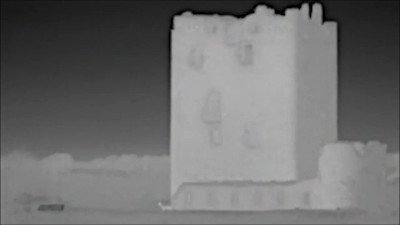 Their strenuous activity was a somewhat incongruous sight aftergazing at various animals quietly grazing. From the light emanating from their bodies the joggers were clearly working hard. The joggers passed by quickly seemingly unware of the other creatures getting on with their lives all around them.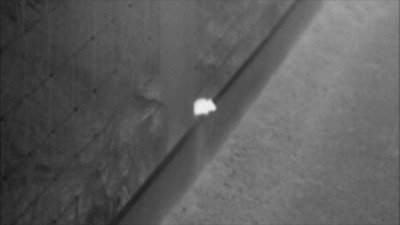 Another favourite sighting was various mice. These initially show up as tiny balls of heat and were to be found on walls and on the path. When disturbed they either vanish into an impossibly small hole or can be seen jumping along the ground in large erratic leaps.
Another lasting memory was seeing the heat image of trees. Whilst they do not glow as brightly as animals, the trunks and branches of mature trees also gave off an image of relative warmth indicating the life within.
Birds were to be seen roosting in hedges or trees. This image shows how well insulated the bird's body is compared to its head. This bird is well tucked in amongst twigs for the night to offer protection from predators.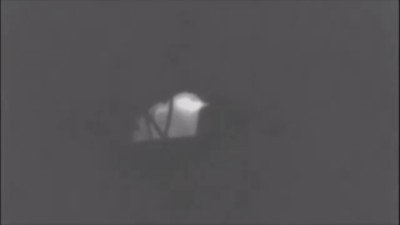 We had wrapped up with many layers, but after a couple of hours wandering around on a December evening we were ready to head back to a warm fire with lots of memories and tales to tell of the nocturnal world outside.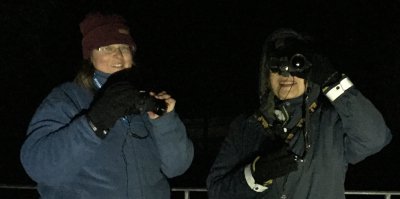 Nocturnal Wildlife Experiences are run by Keith Kirk an experienced wildlife photographer with an enormous amount of knowledge on the habits of wild creatures. Tours for a maximum of two participants take place after dark on the Threave Estate Nature Reserve just outside Castle Douglas. Cost is £50 per person for a tour lasting approx 2 1/2 hours (2018 prices). The start time will vary depending on sunset. All equipment other than clothing and footwear is provided.
Depending on the time of year it is important to wrap up warm and wear suitable footwear (we both wore wellingtons as it had been raining). Participants should be able to stand/walk slowly for a couple of hours. The trail used is designated as wheelchair accessible so it should be possible to do a tour by wheelchair. However as the tour is done in the dark it would be wise to check the suitability of the trail by daylight first.
About the author: My husband and I run Kirkennan Estate Holiday Cottages just outside Castle Douglas. We were first attracted to the area by the wondeful scenery and the variety of wildlife. Kirkennan Estate itself is rich in wildlife and is a good base from which to explore the local area.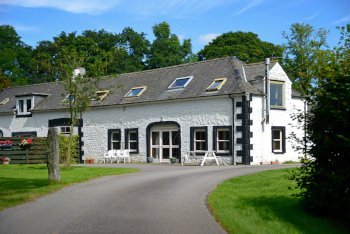 A cozy cottage ideal for couples with one king sized bedroom and one twin/triple room. The Mews features a wood-burning stove and looks out over Kirkennan's lawns where red squirrels, rabbits and pheasants are often to be seen. Welcomes 3 dogs free of charge.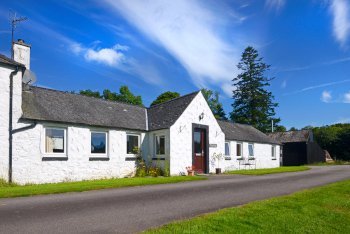 Woodsedge is all on one level with a wetroom making it ideal for guests with limited mobility or who use a wheelchair. It sleeps up to 5 in 3 bedrooms and welcomes 3 dogs free of charge. Woodsedge has an enclosed rear garden and is near our 14 acre riverside woodland where badgers roam at night.