Given the overwhelming evidence that our unsustainble use of plastics is polluting our world, we all need to play our part in reducing the waste we generate. This blog describes the steps we are taking at Kirkennan Estate Holiday Cottages and what guests can do to help....
Reduce, Refill, Reuse, Recycle, Rebuy
Our overall approach to single use plastics is summed up in the five words above.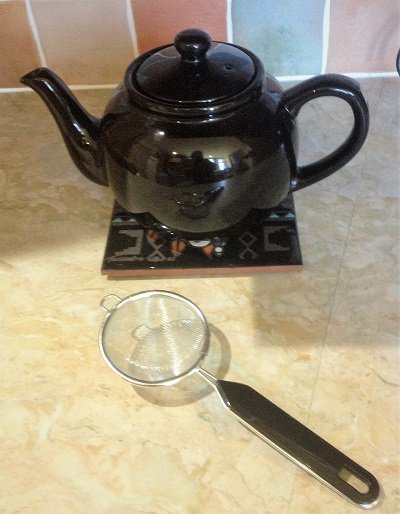 Reducing use of single use plastics
Reducing the amount of single use plastic we use is the ideal. Sometimes it is hard to do this given the purchasing options we are faced with and at Kirkennan we are always looking out for ways to reduce our use further. To date we have taken the following steps to reduce usage:
Tea-bags. Many teabags contain micro-plastics which contaminate the soil and cannot be removed. So we have put tea-pots and strainers in all cottages and moved over to supplying both loose leaf tea and Clipper tea-bags that do not contain plastic (and have the added bonus of being fairtrade.)
Milk in jugs. We like to provide an initial supply of milk so that guests who arrive feeling thirsty can make themselves a cup of tea or coffee. Rather than buy small plastic containers we buy 2 litre containers from local supplier Roan's Dairy and provide milk in a jug in the fridge.
Avoiding the use of plastic bags.

All our cottages have had a non plastic tote bag put in them so guests can conveniently do their shopping without having to purchase plastic carrier bags. We do not use plastic bin liners except where necessary for hygiene (i.e. near toilets and in kitchens).

Growing our own fruit and vegetables. We grow most of our own fruit and vegetables in our organic garden - so there is no plastic packaging used in getting it from ground to table. We like to give guests a selection of what is currently in season when they arrive - we are thus able to provide a welcome pack without any wasted packaging. Likewise the fresh flowers waiting for guests on arrival come from straight from our own garden so there is no packaging wasted here either.
Micro-fibre cloths. We have moved over to using micro-fibre cloths when cleaning the cottages between guests. Micro-fibre cloths can do many general cleaning jobs without the need for anything other than water. Reduced use of cleaning fluids means less use of plastic containers to keep them in.
Making our own leather polish. Two of our cottages have leather sofas in them which require frequent polishing. However I got so fed up of having to choose between w

ax impregnated wet-wipe type cloths - which are particularly wasteful and problematic to dispose of appropriately - and aerial sprays that lasted no time at all before the can had to be thrown away, that

I have been experimenting with making our own polish from our own beeswax. I haven't quite got the recipe right yet - it works but is a bit hard to spread when not warm. This is a work in progress.
Minimising use of new plastic tree tubes. When we planted our new woodland of approximately 5000 trees each tree had to be protected against deer and voles in a tree tube. In commercial plantations these are normally only used once as it takes considerable labour to collect and prepare them for re-use and previously used ones take longer to secure over new trees. However this seemed so wasteful that when we were preparing to plant we put out a request on freecycle for used tubes and were pleased to be able to collect a considerable number from two local woodlands where they had been removed and left in a pile, thereby reducing the number of new tubes we needed to buy. When we remove tubes from trees that are no longer required we do so with care so that if possible it is possible to re-use them - and any we don't need ourselves will be offered to others on freecycle.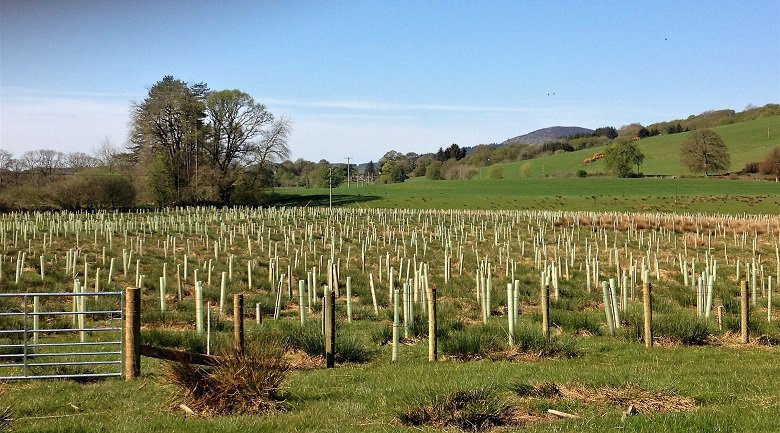 Refilling plastic containers
Our next favoured way of reducing the amount of plastic waste we produce is to refill containers as many times as we can with either the same or different products:
We buy in bulk and refill the following: handwash, dishwashing soap, cleaning fluids, laundry detergent. Since we started this system we have not yet had to replace a plastic dispenser.
We refill empty plastic food containers with new food stuffs: plastic drink bottles are ideal for freezing elderflower cordial made with flowers from Jock's wood; ice-cream tubs are good for freezing fruit from the walled garden such as raspberries, blackcurrants and gooseberries.
Plastic tubs from bulk buy of bird fat balls are ideal for storing other bird food in within our bird and photography hide in Jock's Wood.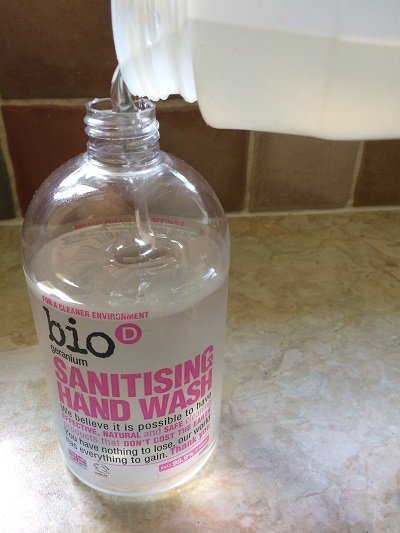 Reusing plastic in other ways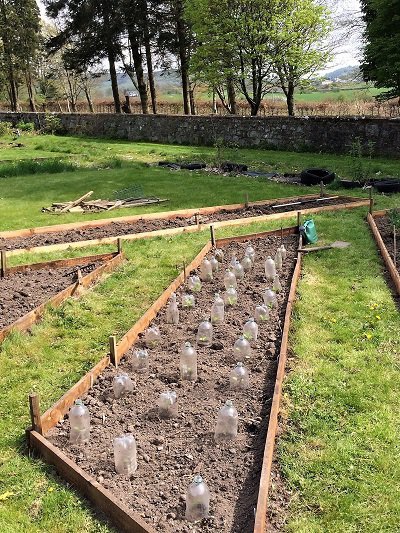 Plastic containers can have another life being used for alternative purposes before being sent for recycling:
Plastic drink bottles make ideal individual cloches for placing over new transplants to protect from slugs or over large seeds such as beans or peas to prevent mice eating them. These can be used time and time again and are a frequent sight in the vegetable section of Kirkennan's walled garden.
The photo at the top of the page shows a waterer made for the Guinnea Fowl keets out of a plastic milk container and an ice cream tub being photo-bombed by Scruffy the Cockerel.
Recycling Plastic
We take all our own domestic plastic bottles to the local household recycling depot in Castle Douglas where we hope it is recycled (I have been unable to verify this and if anyone knows what actually happens I would love to know - as put by Zero Waste Scotland 'We need to know where all our plastic goes' ). Waste from the holiday cottages counts as commercial if we are left to deal with it but domestic if guests do. Thus we are not allowed to take plastic containers left by holiday makers to the recycling depot; this is why we currently encourage guests to recycle their own plastics and other items. Dumfries and Galloway is due to start kerbside recycling in 2020 - though roll-out has been delayed before. In the meantime we have a commercial waste agreement with the Council who collect mixed waste and take it to the Eco Deco plant in Dumfries. The Eco Deco plant seperates out various kinds of waste for recycling. As far as I am able to ascertain plastics are turned into a fuel which is then burnt for energy recovery. This meets all our legal responsibilities but we would so much prefer for holiday cottage guests to produce less waste!
Rebuying recycled plastic
One way to encourage a circular economy and give a commercial incentive for recycling, is to buy items that are made out of recycled plastic. We are on the look out for more suitable items but are pleased to have found the following:
Mitre Eco Pillows with 100%

recycled hollowfibre filling made from recycled plastic bottles - if these prove popular with guests we intend to buy this kind of pillow for all replacements in future. [Note as part of our attempt to reduce our carbon footprint we only replace items when necessary so it will take a long time until all pillows are Eco ones.]

Bio-D who supply our handwash, washing up liquid and various cleaning fluids use plastic recycled from UK kerbside collections for the majority of their containers.
We know we can do more and are always open to suggestions. You can contact us via the form below.
What guests can do to help to reduce single use plastic waste
We know that when you are on holiday you want life to be easy but the following simple steps could make a big difference to the amount of waste plastic you produce:
Reduce
Water in the taps of our holiday cottages is good to drink so you don't need to buy bottled water. Why not take a water bottle out with you and refill? This will not only reduce waste plastic but also save you money. Dumfries & Galloway belongs to the Refill Scotland scheme and has over 100 places where you can refill a water bottle for free. Download the Refill App to easily find the nearest locations.
Avoid unnecessary packaging – for example try buying from local markets, or try out loose leaf tea as an alternative to tea-bags - you will find a supply of loose leaf tea plus a tea-pot in your cottage.
Take the re-usable tote bag you will find in your cottage with you when going shopping - and please remember to return it! If it has gone missing please let us know and we will replace it.
Do not throw wet-wipes of any kind down the toilet as it blocks the system - better still avoid their use all together.
Help us to re-use
Please don't throw away the plastic containers for handwash, washing up liquid, cleaners etc you find in the cottage. If you empty them we will refill them at the next changeover.
Re-cycle
We look forward to Dumfries and Galloway Council introducing kerbside recycling collection next summer. In the meantime we encourage all guests to take their own clean plastic bottles to the recycling depots outside Dalbeattie or Castle Douglas. Other plastic waste should go in the main bin where it will be taken to the Eco-Deco centre and seperated to make a fuel.
Look for Holiday Cottages that care...
We are proud that Kirkennan Estate Holiday Cottages have achieved a Gold Award from Green Tourism in recognition of the steps we have taken to be environmentally friendly and obviously hope that readers are thinking about visiting us! Considering the environmental steps your potential accommodation is taking when you are looking to book a holiday is one way you can encourage more businesses to be green. You can find other accommodation that is committed to reducing their unsustainble use of plastic by searching on the green tourism list of members.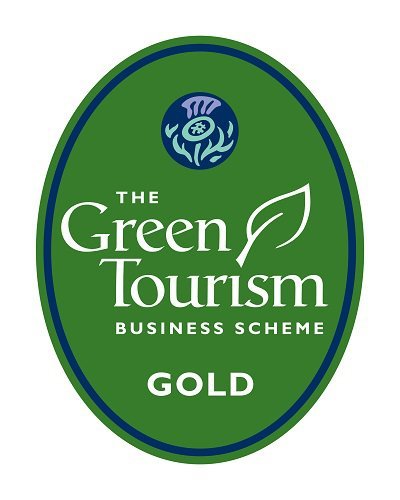 About Kirkennan Estate Holiday Cottages
My husband Michael and I moved to the 74 acre Kirkennan Estate in 2013 and have opened up 3 cottages as holiday cottages: The Mews, Woodsedge and The Lodge. We are trying to run the whole Estate as environmentally friendly as possible; you can find out more about the steps we have taken in our Green Story. This is a work in progress and we know there is so much more to do! If you feel Kirkennan is a place you might like to visit please use the links below to find out more about our cottages or send me an email with any questions.