Wild Foods: Elderflower Cordial Recipe
Elderflowers are just coming into season in Dumfries & Galloway - time to get collecting!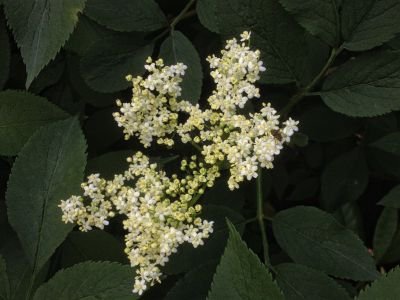 Elderflowers have a delicate scent that can be rather overpowering, or even unpleasant, en-masse but they make the most delicious cordial which is incredibly easy to make and has a variety of uses. There are plenty of other things you can do with elderflowers but having tried a number this remains my absolute favourite.
Elderflowers are easy to recognise once you have identified them once (see photo). Choose bushes well away from traffic fumes.
The best flowers to collect are those that are just fully opened. These are often found at the top of the bush so it helps to take a walking stick with you to pull branches down. Remember to leave some flowers to turn into berries for the birds (and elderflower berry recipies).
Ingredients
20 - 30 heads of elderflowers
3 pints cooled boiled water
2 1/2 lbs of sugar
2 lemons sliced finely
50 grams citric acid
Instructions
Most recipes tell you to wash the flowers - I never do as I suspect much of the flavour resides in the pollen. I just make sure I collect unpolluted and clean flowers and give them a bit of a shake to remove as many insects as possible. I then filter the cordial to get rid of any residual insects.
Disolve in the sugar in the hot water, allow to cool then mix all the ingredients together (if you mix hot water with the flowers they will discolour). Allow to stand for 24 hours. Strain through a seive and then a fine muslim cloth and bottle in clean plastic bottles. The cordial will keep in the fridge for a couple of weeks or if you leave a bit of expansion room at the top it can be kept in the freezer for up to a year.
Uses
We mainly use this mixed with sparkling water for a refreshing summer drink. Other options include:
poured over ice-cream
as a flavouring in cakes, puddings, ice-cream or sorbet - it mixes particularly well with gooseberries
with hot water as a comforting hot drink when suffering a cold
in cocktails
About the author: My husband Michael Bourdages and I run 3 holiday cottages in the heart of Dumfries & Galloway. We were attracted to Kirkennan Estate by the wonderful grounds rich in mature trees and wildlife. Elderflowers can be found in our 14 acre Jock's wood in June. There are never enough however so I have planted quite a few more in our new woodland of 5000 trees. To find out more about our holiday cottages please follow the links below. Or send me a message - I am always happy to hear from people.
Kirkennan Mews
Looking for a relaxing holiday in a place where you can forage from the door? The 2 bedroom Mews is ideal for a couple but can sleep up to 5. Woodland and river walks from the door. In season elderflower, elderberries, blackberries, wild garlic, sloes and much more can be gathered on Kirkennan Estate.
Kirkennan Lodge
Step outside into a large enclosed garden with no near neighbours. The Lodge sleeps 5 & 2 and stands on its own near the southern entrance to Kirkennan Estate. It is an ideal location for those that want to get away and relax.
Woodsedge Cottage
Woodsedge Cottage is 2 minutes walk from our 14 acre Jock's wood where you can enjoy our photography hide, picnic in the grove, sit overlooking the tidal Urr Water - or pick elderflowers. Sleeps 5 with an enclosed rear garden.