This blog shares some of the art and craft work you can see if you are a guest at Kirkennan Estate Holiday Cottages both around the Estate grounds and within the cottages. All the highlighted work is by artists who are either local or who have a particular link with Kirkennan and some of it is for sale. I include information on where you can see more of their work either by visiting local galleries or workshops whilst on holiday in Dumfries & Galloway, or virtually online.
Around the grounds
Stained glass window by Caro Barlow
When we first saw Caro's wonderful stained glass we knew we wanted to commission a piece but were stuck for where to put it as we didn't want to block any of the wonderful views out of our windows. When Michael built the riverside hut in 2016 it became apparent that this was the perfect place. Caro joined us for a session down the hut where we talked through various ideas and she came up with this wonderful piece inspired by the shape of the river Urr (see photo above). Guests at Kirkennan are welcome to use the hut where, as well as admiring the stained glass window, you can while away the afternoon watching for wildlife on the river Urr or reading a book.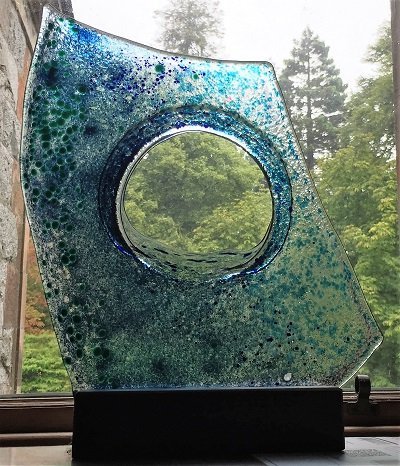 Caro also works with print and you can see one of her prints of a hare in Woodsedge holiday cottage. We also have some of her glasswork in Kirkennan House.
Caro lives just outside Auchencairn and as well as being an artist is a great friend . She is a member of the Contemporary Glass Society and has exhibited widely. You can see some of her recent work at The Globe Inn in Dumfries. This was a favoured haunt of Robbie Burns and in 2020 the pub commissioned Caro to make a set of windows depicting scenes from Burn's poem Tam O'Shanter. You can view more of her work at CarolynBarlow.com.
Guests can visit her husband Bill's workshop just outside Auchencairn by appointment to see window panels and framed drawings - I can give Caro's mobile number on request.
Garden Mosaic by Helen Miles
The Garden Mosaic idea came about during a reunion at Kirkennan of some friends I was at school with. I had lost touch with Helen after leaving secondary school, which was quite a long time ago, but was put back in touch by mutual friends. In the meantime Helen had become a reknown mosaic artist based just outside Edinburgh taking worldwide commissions and teaching mosaic techniques. I was thrilled when she agree to make and install a mosaic at Kirkennan. You can see the mosaic in the walled garden and read more about the process at our blog on the Kirkennan Garden Mosaic. Sadly Scruffy, the Cockerell who is immortalised in the mosaic died of old age on Xmas day 2019.
More of her work can be found on the Helen Miles Mosaics website and Helen Miles Mosaics facebook page. Mosaics can be a wonderful way to commemorate a special occasion such as weddings or anniversaries so if you are stuck for a present idea why not look at some of the mosaics Helen has made for special occasions,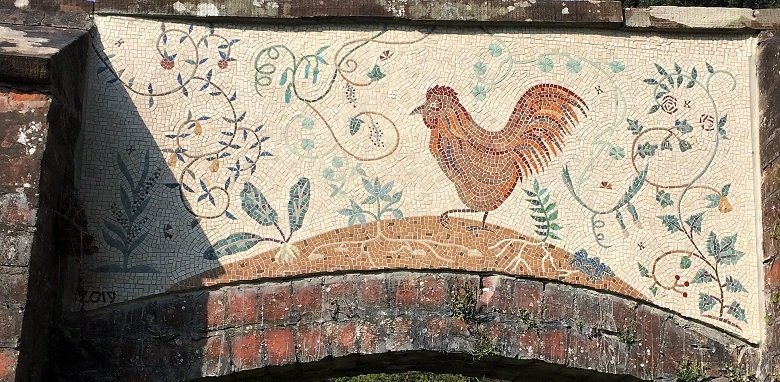 The Old Man of the Woods by Jojo Brown
I first spotted chainsaw carvings by Jojo Brown on his Sawdust Sessions facebook page and, noting he lived nearby in Dalbeattie, got in touch about purchasing one to erect in Jock's wood. We love the way the Old Man hides amongst the trees – many guests tell us they haven't managed to find him. But he is there if you look carefully.
In his other life Jojo is a self-employed plumber labourer but he seems to find plenty of time for carving. You can see more of his work on Sawdust Sessions, and by arrangement in his workshop in Dalbeattie. He takes commissions and also often has ready made pieces available to take away.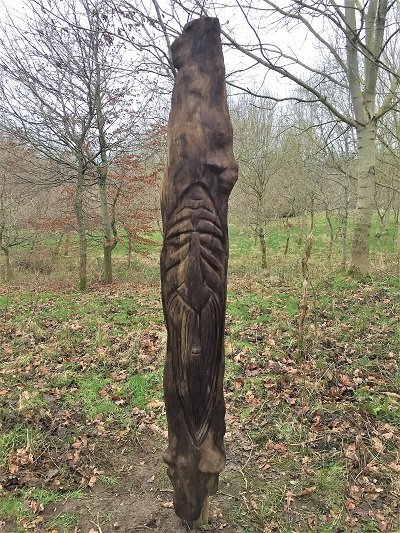 Garden sculpture from Wigtown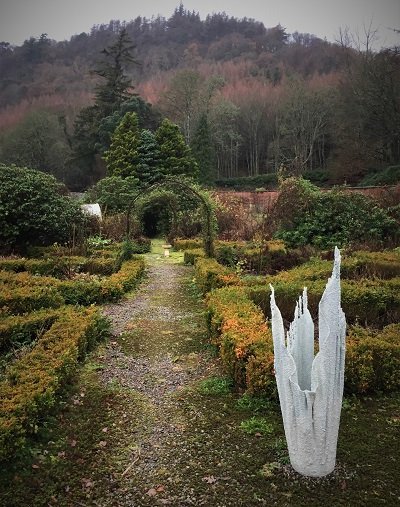 I really regret we have lost the name of the person who made this rather gothic structure we have put in the walled garden. We found this whilst browsing around Bayview Nursery in Wigtown and rather fell for it. The man then working at the garden centre is a sculptor in his other life and had recently been experimenting with making shapes by dipping old towels in cement and draping over a form. We think the result is rather eye catching.
If you want to see more of this work you can visit Wigtown and see if he is still working at Bayview Nursery and showing his sculptures there. If he is please do let us know his name and contact details.
Within the cottages
Within the cottages we also showcase a number of prints and photos by artists with a local connection. Some of these are for sale and can be taken home with you as a lovely momento of your holiday - we don't take any commission so all monies go directly to the artist concerned.
Pictures and cards of local scenes by Ann Butler
Ann Butler is an artist living in Borgue just west of Kirkcudbright whose work is inspired by local scenes. Ann and I also go back a long way as we were at University together. There is a print of Ann's in each cottage along with cards of some of her other work. All of these are for sale.
The photo shows "The Wellspring", Kirkcudbright. 1/20 limited edition print £70 which is on display in Woodsedge. The prints in the other cottages and the available cards can be seen on Kirkennan Estate Holiday Cottages facebook page.
You can see more of Ann's work at Annie's Art House facebook page and Annie's Art House webpage. She also runs an Art tent in her garden just outside Borgue open every Thursday where you can see more of her work including willow sculptures (weather dependent so call before visiting) (approx 30 min drive from Kirkennan).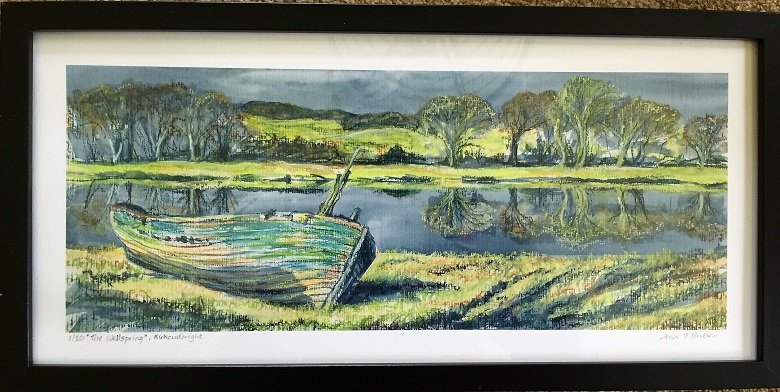 The Kirkennan Giant Sequoia by Pamela Grace
Local artist and printmaker Pamela Grace drew the leaning Giant Sequoia on the lawn outside Kirkennan House to form the basis for our logo – you can see it at the top of this webpage. We have the original ink drawing in The House. She then turned the drawing into a limited edition etching which formed the basis of the logo. A copy of this etching can be found in the hallway of Woodsedge. Further prints of the Kirkennan Giant Sequoia are available from Pamela – if you have a friend who loves Kirkennan they could make a unique present.
Pamela lives in Dumfries & Galloway and exhibits in a number of local galleries including The Whitehouse Gallery in Kirkcudbright. She is a frequent participant in Spring Fling when you can visit her studio. You can also find her work at PamelaGrace.co.uk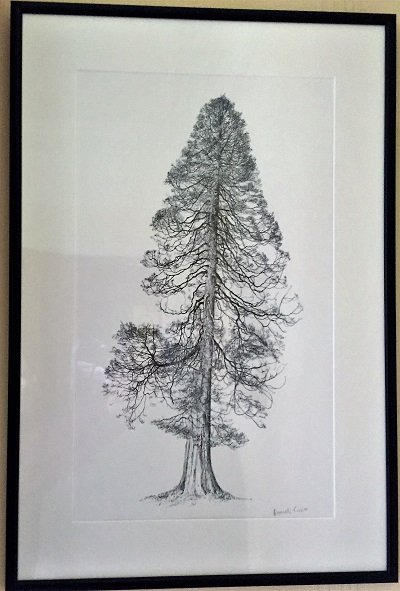 Print by Ellie Goodare
Ellie is another local artist who is particularly fascinated by skies. The photo below is of a print of Twynholm Trees, Under a Dark Cloud which can be found in The Lodge and is for sale at £180.
More of Ellie's work can be seen at Ellie's Art House facebook page and on her website. She also has a studio in Twynholm that can be visited by arrangement (approx 20 min drive from Kirkennan).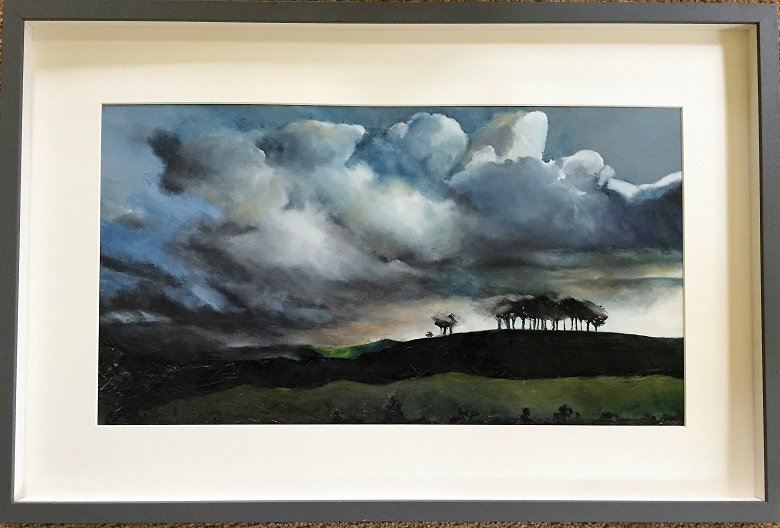 Cards and photos by Jack Chapman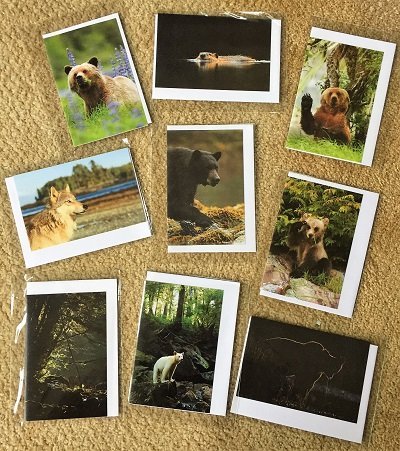 Jack Chapman is someone else with a personal link being our son. Jack is a photographer who specialises in wildlife and landscape. He has spent many months sailing up the inner passages of British Colombia exploring the Great Rain Forest and taking photos of bears and wolves. In 2017 he sailed back from Canada part solo and part with our other son Martin. The boat he did this in Our Destiny II can be seen moored up at Kirkennan if you walk along the river bank. He is currently studying Forestry in Finland.
Jack has some cards in the cottages which are for sale and one framed photo in The Mews of a Grizly Bear Fishing that is for sale. His other photos are not for sale though prints can be ordered. You can see more of Jack's work on Jack Chapman Photography facebook page, Jack Chapman Photo instagram and the Jack Chapman Photo website.
Artwork by Edward C Campbell
Edward Campbell is an artist, author and musician based in Palnackie who also co-runs The Old Mill - a renovated Mill with exhibition space and bookshop downstairs and art studios upstairs open 10-5 Thursday-Saturday. Edward works in a range of media including ink on paper and oil on paper or canvas. His themes range from landscapes, in particular trees and water, to the surreal.
We have 3 examples of Edward's work at Kirkennan, one in each cottage: Midnight Loch (shown), original ink on paper, framed, is in The Lodge and can be taken home for £90; Radiant Moon, original ink on paper, framed, is in Woodsedge and available at £90; Sunrise on the Urr, (yes that Urr, the river that forms one boundary of Kirkennan), Glycee print, is in The Mews and available at £55. If you like Edward's work and want to see more then get in touch with The Old Mill and arrange to go and see what they have available.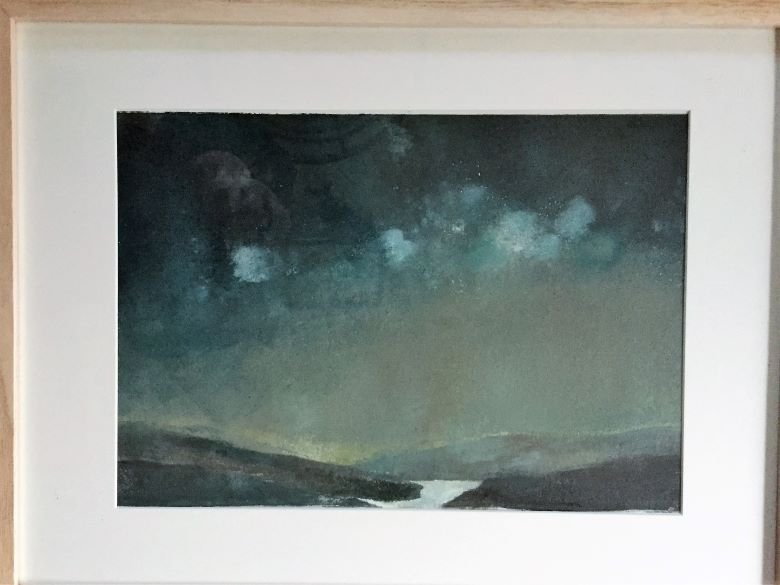 Photos by Jennifer Walker
Jennifer Walker is another local photographer based in Dumfries. We came across her work when she exhibited in The Nail Factory in Dalbeattie. Jennifer specialises in photographs of landscapes, nature and architecture in Dumfries and Galloway. Each of the cottages has at least one of her framed prints of local scenes on display which are available for purchase and can be taken away with you at the end of your holiday. The photo shows View Over Drum Bay from Drumburn which is hanging in The Lodge. You can find more of her work on the JBW Photography website.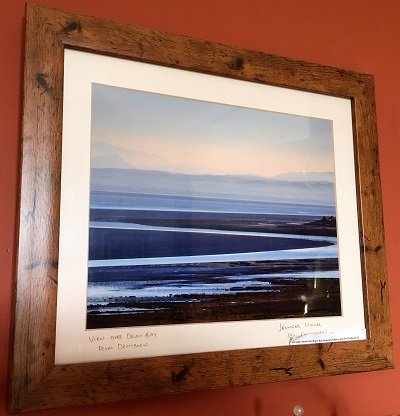 About the Author
Along with my husband Michael I run Kirkennan Estate Holiday Cottages in Dumfries & Galloway, South West Scotland. We take great pleasure in supporting local enterprises of all kinds and encourage our guests to do the same. If you are interested in family run, Green Tourism Gold rated comfortable holiday cottages set in grounds rich in wildlife then please do take a look at our cottages below.