The Kirkennan Giant Sequoia
The story behind the logo for Kirkennan Estate Holiday Cottages.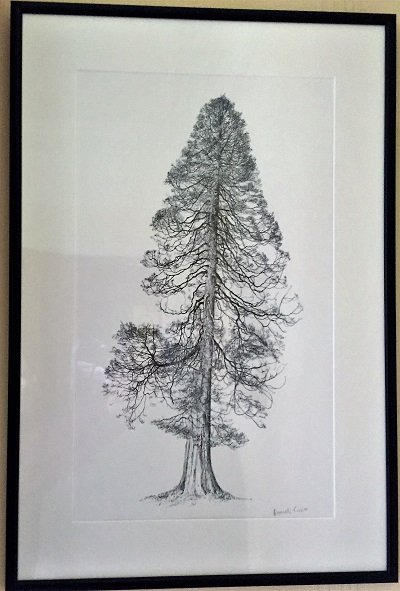 The lure of mature trees
When Michael and I first visited Kirkennan we were particularly attracted by the wonderful mature trees in the landscaped gardens. So when the time came to design a logo for our holiday cottages it seemed natural to select one of these marvelous trees to represent the atmosphere of such a special place.
We chose the Giant Sequoia [Sequoiadendron giganteum] in the main lawn and commissioned a local artist Pamela Grace to do a drawing of this tree. She did an amazing job. The original ink drawing (left) was used to produce a limited edition print from an etching which now forms the core image in our logo. [Print 1/50 can be seen in Woodsedge, further copies are available for purchase from Pamela]
Older than the dinosaurs
Sequoiadendrons are ancient trees dating back to the Triassic Period (200 million years ago) and were the main tree in Europe during the Jurasic and Cretacious Periods. They became extinct in Europe about 20 million years ago but continued to grow in Western North America. The Giant Sequoia is the only remaining member of the genus and it continues to grow in the wild in Sierra Nevada.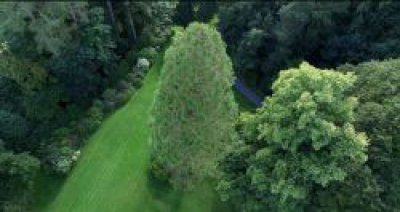 The Giant Sequoia was first re-introduced to the UK in 1853 and soon became a status symbol to have in the gardens of wealthy Victorians. Jock, our resident historian, reckons that the first set of Giant Sequias at Kirkennan were planted around this time - apparently at the same time as the first ones at Drumlanrig Castle. If anyone knows what year this was I would be interested to hear. Three of these early mature trees survive, plus if you hunt around you can find an enormous stump - the remains of a Giant Sequia that was deemed in danger of falling and so was felled a long time before we ever arrived at Kirkennan. There are also some younger Giant Sequoias in Jock's wood which were planted about 25 years ago.
About the author: For the last 5 years Michael and I have developed and run Kirkennan Estate Holiday Cottages - 3 cottages within the 73 acres of Kirkennan Estate. We like to think that the cottages provide a peaceful retreat for guests who appreciate the beautiful grounds as much as we do. For more information on the cottages please see the links below or feel free to get in touch.
Kirkennan Mews looks out over the Estate's landscaped gardens with a view of mature trees where red squirrels can often be seen. Sleeps 4 & 1.
Kirkennan Lodge stands in its own large enclosed garden by the southern entrance to Kirkennan Estate. It looks out over fields, our new woodland of 5000 trees and our Victorian Walled garden where our chickens roam. Sleeps 5 & 2 with 3 dogs welcome.
Woodsedge Cottage offers level access accommodation that looks out across fields and woodland. Guests are welcome to borrow our mobility scooter to enjoy the Estate landscaped gardens. It has its own enclosed rear garden and sleeps 5 with 3 dogs welcome.