Art Galleries in South Scotland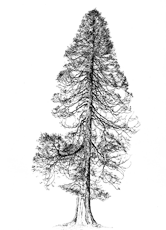 Dumfries and Galloway in South Scotland is well known for the vibrancy of its artistic life. Kirkudbright has been known as an artists town since 1880 and still hosts a wealth of artists and artisans and Spring Fling each year brings thousands of visitors to the local area who are interested in art. We welcome guests to our 3 self-catering holiday cottages who are interested in art. Here we list some just a few of the art galleries near to Kirkennan.
Barnbarroch Pottery at the turn off to Kippford is a small showroom that shows and sells the pottery of Christine Smith. It is open 10am-5pm Tues to Sat and has its own car-park.
Castle Douglas Art Gallery
Clience Studio in Castle Douglas shows the Scottish contemporary landscapes and seascapes of owner Angela Lawrence. Open Mon-Sat 10.30am-5pm. You can park free in the town car park.
Cornerways Art Gallery, Kirkcudbright. Only open on Fridays 10.30am-5pm. Shows work of Jane Gibson known for her miniature painting.
Designs Gallery, Castle Douglas shows contemporary applied and jewellery. Also has a café.
Gracefield Arts Centre in Dumfries has a changing programme of exhibitions featuring regional, national and international artists and craft makers. It also stores a collection of over 600 artworks by Scottish artists or art relating to the region which are shown in exhibitions throughout the year. Open Tues-Sat 10-5pm (Cafe Hubbub open 10-2.30). During COVID it is necessary to prebook entry at DG Culture
Harbour Cottage Gallery, Kirkcudbright.
High Street Gallery, Kirkcudbright exhibits Scottish Contemporary Art, Scottish and Kirkcudbright Fine Art, Decorative Arts & Collectables and Jewellery. Open daily except Thursday 10am-5pm (11am Sunday).
Kirkcudbright Galleries, a regional art gallery of national significance. The architect designed interior hosts a permanent display of the Kirkcudbright Artists' Collection, which includes works by artists such as John Faed, Robert Sivell, Edward Atkinson Hornel, Jessie Marion King and Samuel John Peploe. It also displays an exciting range of temporary exhibitions throughout the year of historic and contemporary works lent by galleries and private collections from all over the UK. There is a great cafe. During COVID it is necessary to prebook entry at DG Culture
McGill Duncan Gallery, Castle Douglas Sells contemporary work by national and international artists and Scottish paintings from The 19th century onwards.
The Nail Factory in Dalbeattie is a small community gallery that has occasional exhibitions. Open 11am-6pm when there is an exhibition on. You can park free on nearby streets.
The Old Mill Gallery in Palnackie just 1km from Kirkennan is is home to an exhibition space, a bookshop and art studios. It is a lovely space and well worth a visit. Open 10-5 Thursday - Saturday.
The Tolbooth Arts Centre, Kirkcudbright has an exhibition on Kirkudbright's famous artists as well as a changing exhibition of contemporary art and craft. Open all year, but variable opening times (see website). During COVID it is necessary to prebook entry at DG Culture.
The Whitehouse Gallery, Kirkcudbright is a contemporary art and craft gallery. Open Mon-Sat 10am-5pm. Closed for first few weeks of year. According to their website: 'There is a small step up to the gallery, but gallery staff are always available to help anybody gain access with wheelchairs. Once inside, the gallery is wheelchair friendly'.
If you run an art gallery or studio in Dumfries and Galloway, South Scotland that should be on this list please send us a message using the form below.
If staying at Kirkennan Estate Holiday Cottages then do wander down to our walled garden to take a look at our fabulous garden mosaic by Edinburgh based Helen Miles. THis was installed in 2019 and features Scruffy our magnificent cockerel.

When it came to design a logo for Kirkennan Estate Holiday Cottages we wanted something that captured the atmosphere of Kirkennan made by a local artist. Read about how we commissioned local artist Pamela Grace in our blog about the Kirkennan Giant Sequoia.
Art events in Dumfries and Galloway, South Scotland
Spring Fling, Scotland's Premier Open Studio event takes place over the late May bank holiday weekend. For 3 days up to 100 artists and makers will open their studios to visitors.
Kirkudbright Arts and Crafts trail in July is an event where you can wander round a range of galleries in Kirkudbright to see artists work and ask them questions.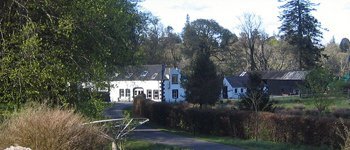 Child friendly and dog friendly cozy cottage looking out across Kirkennan's landscaped gardens.
Ground floor: Living room with multi-fuel stove. Dining room. Kitchen. Shower room with toilet.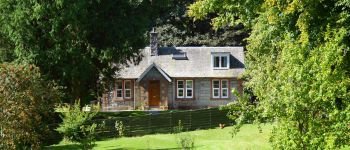 Large cottage with garden ideal for family holidays, The Lodge used to form the gatehouse for Kirkennan Estate.
Ground floor: Living room with open fire. Dining room. Kitchen. Bathroom with shower cubicle and toilet. Double bedroom. Twin bedroom.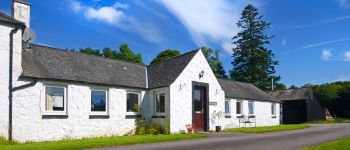 Ground floor only cottage with enclosed rear garden that used to form part of Kirkennan Estate's stable block
Ground floor: Living-dining room with open fire. Kitchen. Wetroom with shower stool. Double bedroom. Twin bedroom with adjustable bed. Single bedroom.