Mostly Ghostly specialise in tours of locations in Dumfries and Galloway that have dark histories, mythology or ghost stories connected with them. I joined them for a Holly, Hauntings and Horticulture night-time tour around Threave Gardens and House....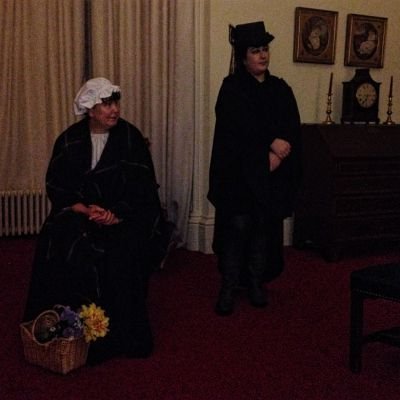 I have been wanting to go on a Mostly Ghostly Tour ever since I met the team at a talk they were giving a year ago when I was struck by their warm manner and enthusiasm for the local area's history. So I was very pleased to be able to join them on their new walking tour at the nearby Threave Garden and House.
We started by wandering through Threave Gardens in the dark, lit only by torches. Being able to access the gardens in a small group at night with no-one else around was a pretty special experience. I love Threave's walled garden which formed the backdrop for some stories about the history of local area including the machinations and intrigues surrounding the Black Douglas Clan of nearby Threave Castle, notably the wonderfully named Archibold the Grim.
Being in Threave Gardens gave the team the opportunity to share the role of various trees in local folklore and customs, an aspect of the tour I particularly enjoyed. For example Rowan trees were seen as having protective properties against witchcraft for both people and livestock and thus were rarely felled. Cows were often left to graze beside a Rowan tree to prevent enchantment from a malicious neighbour. In parts of Scotland, at Christmas, Rowan twigs were burnt to generate goodwill and cleanse a family of any ongoing feuds. It also has a dark side and carrying Rowan twigs played a part in getting at least one woman condemned as a witch.
Another tree with connections to Christmas is of course the Holly. John explained how in the past Holly was used as a weapon by wrapping it around a stave of oak and as a hedge to deter intruders from entering gardens. Nowadays it is seen as bringing good luck with holly wreaths put on doors to bring peace and harmony to the family.
One thing worth noting is that whether you bring prickly or smooth leaved holly into the house first is said to influence whether the husband or the wife will rule the household for the coming year. This photo - taken at Kirkennan - appears to show holly that has a bit of both. Perhaps the best kind to guarantee peace and harmony in the coming year?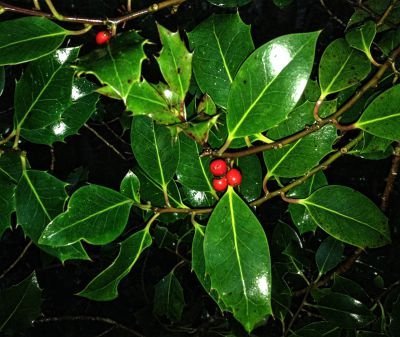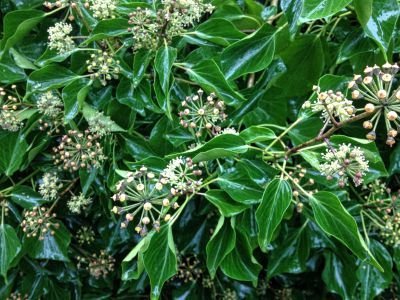 Kathleen explained how ivy symbolises life, death and rebirth. It is also connected with loyalty and longevity. It has long been used in enchantments and spells. When combined with holly in wreaths and other decorations at Christmas it is meant to bring good fortune.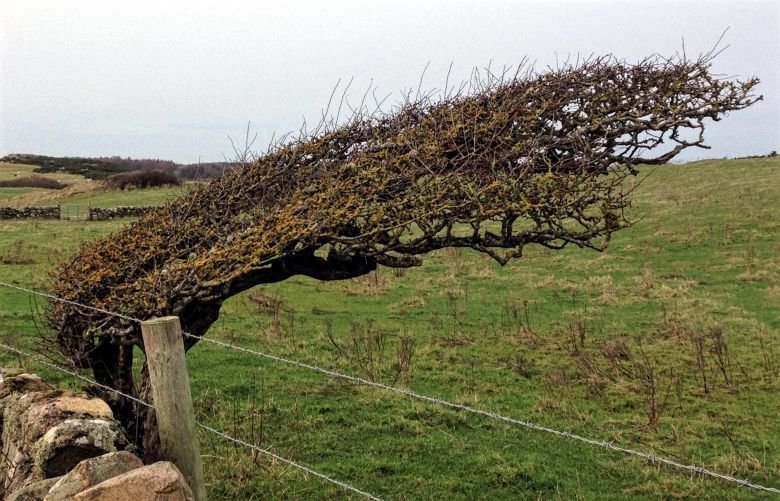 Mary and Kathleen told us how Hawthorn was a sacred tree for the Druids who believed spirits met under them. Near to Castle Douglas there once stood The Three Thorns of Carlingwark reputed to have been the site of human sacrifice some 2000 years ago.
John told us how the Druids would see mistletoe as a symbol of peace; if enemies met below it they would drop their weapons. In ancient times in Spain two white bulls would be sacrificed under trees bearing mistletoe to ensure fertility. Kissing under mistletoe is a very old practice going back to ancient greek festivals. It later continued in greek weddings due to its association with fertility.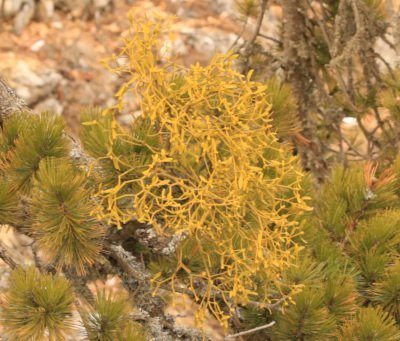 After weaving through the gardens we ended up inside Threave House - a 19th Century Baronial Mansion - where the stories turned more towards the paranormal including some relating to Threave House itself.
It was all great fun and I think everyone on the tour enjoyed themselves. The Mostly Ghostly team have certainly put a lot of effort into uncovering local anecdotes and stories to appeal to anyone interested in history, folklore or ghosts and I look forward to trying one of their other tours in the future.
Mostly Ghostly run a range of historical and ghost tours in Dumfries and Galloway throughout the year which are listed as events on their facebook page. Some tours are suitable for children - do check - but depending on the location may not be accessible by wheelchair or pushchair. Why not try one on your holiday - it is likely to be a memorable experience!
About the author: I moved to Dumfries and Galloway five years ago and am very much enjoying the opportunity to explore all that this beautiful area has to offer including initiatives set up by local groups such as Mostly Ghostly. Together with my husband we run Kirkennan Estate Holiday Cottages. If you are looking for a holiday with a walled garden that you can wander around at night looking for ghosts, or a woodland where you can gather holly and ivy to bring you good fortune for the next year then do take a look at our cottages.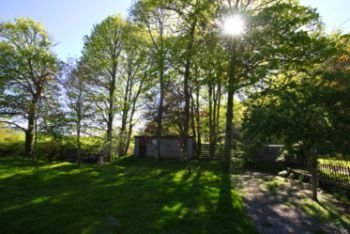 The Lodge is a detached cottage near the southern entrance to the Estate. It is set in a large private garden looks out over Kirkennan Estate's victorian walled garden. The Lodge sleeps 5 & 2 and welcomes 3 dogs.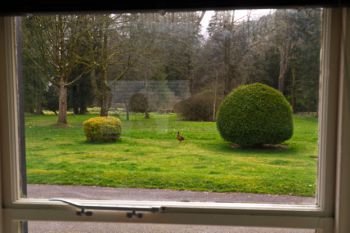 The Mews is part of the converted stable block and at one point formed the office for Kirkennan Estate. Before that the upstairs rooms would have been where grooms slept with horses kept below. It sleeps 4 & 1 and also welcomes 3 dogs.