Food from the Estate: Honey
Kirkennan's honey bees have been making the most of the summer's hot sunny weather to make loads of honey. They now have more than enough to see them through the winter - time to extract some for our own use...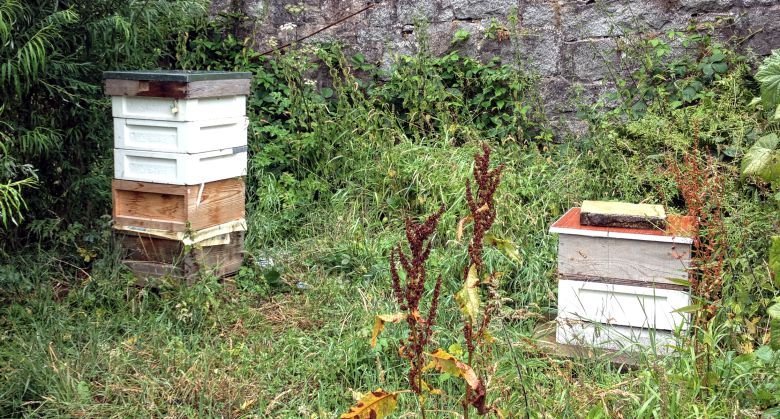 We keep honey bees in the walled garden at Kirkennan Estate mainly for pollination and to support honey bees - which are under threat. Bees produce honey to feed themselves and need a supply to see the hive through the winter. Most years, however they will produce quite a lot more than they need - this is what we extract as our honey harvest.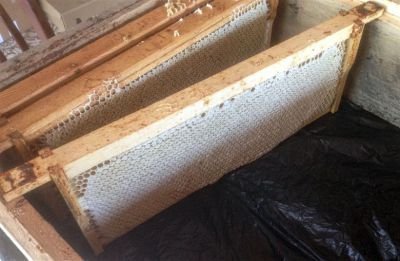 Honey which is ready to extract will be capped with a thin layer of wax as in the comb in the photo. If it is taken before this the moisture content may be too high and the honey may ferment.
Extracting the honey from the combs is best done in a warm room so that the honey flows easily. It is very important to keep all the windows shut or the message will soon get out to thousands of neighbouring bees that there is free food available and the room will become a free-for-all of bees seeking honey.
The first task is to uncap the honey - i.e. cut off the wax caps. You can get special equipment for this but, as a hobby keeper with only a few hives, I make do with standard kitchen equipment. I don't have any photos of the actual process as a) it needs two hands and b) after doing one frame my hands are already incredibly sticky. In my experience extracting honey is a very sticky and messy process however hard I try to keep everything under control.
It is possible to eat the honey straight off the frame - indeed the first year I kept bees I only harvested a couple of frames and this is what we did. However this means destroying the wax structure which gives the bees more work to do before they can fill it up again.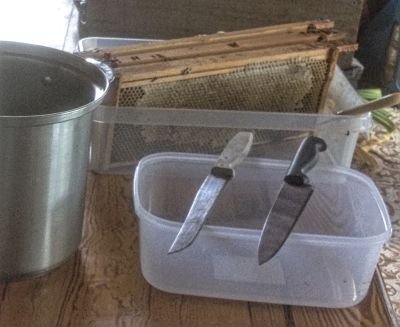 In subsequent years, when I have had more frames to process, I have borrowed a honey spinner from another local bee keeper. This is a food grade bucket with a metal structure in which you put 4 uncapped frames of honey. The lid is put on and the handle turned to spin the frames. Centrafugal force will then cause the honey to leave the frame and splatter against the wall of the bucket leaving the wax structure intact. The frames are then turned round so that the honey on the other side can be extracted. The honey will slowly run down the side of the bucket.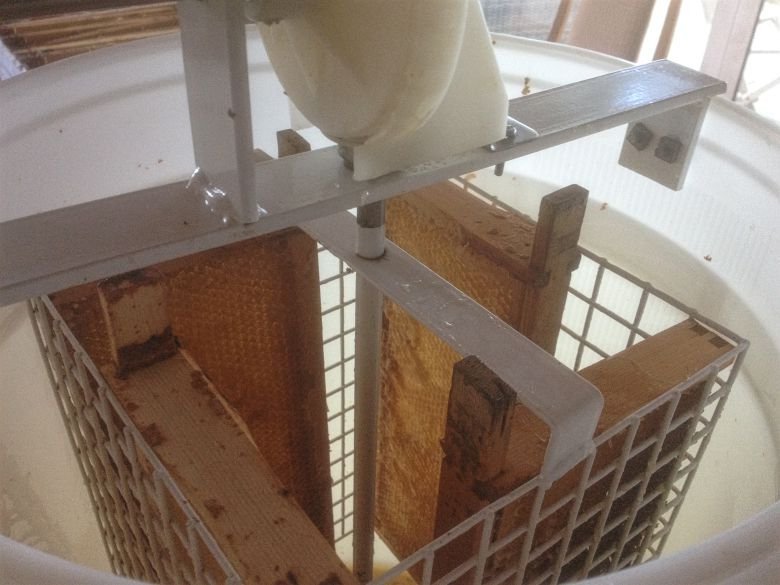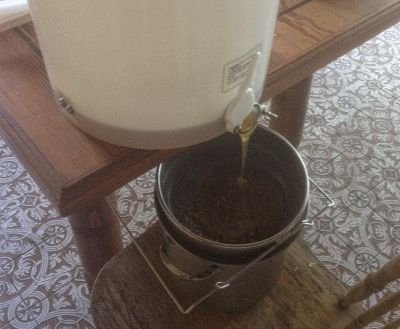 The honey is then run through a series of sieves of reducing size to remove any bits of wax or pollen before being put in sterilized jars. The frames can then be given back to the bees who will clean up any remaining honey.
This year's initial honey harvest can be seen below. I am hoping to remove at least one more super (i.e. box full of frames of honey) before the end of the season.
Kirkennan's honey is a mixed flower honey as the bees will forage far and wild and collect nectar from a range of plants. There is likely to be quite a bit of tree nectar from the mature trees in the gardens - bees love lime tree flowers - but there will also be nectar from wild flowers and much more.
We don't sell our honey as we don't have a lot and are producing mainly for our own use. I don't really want to deal with more than 2 or 3 hives and I leave enough with the bees so they can eat their own honey over the winter. If there is any surplus it given away to guests in our holiday cottages.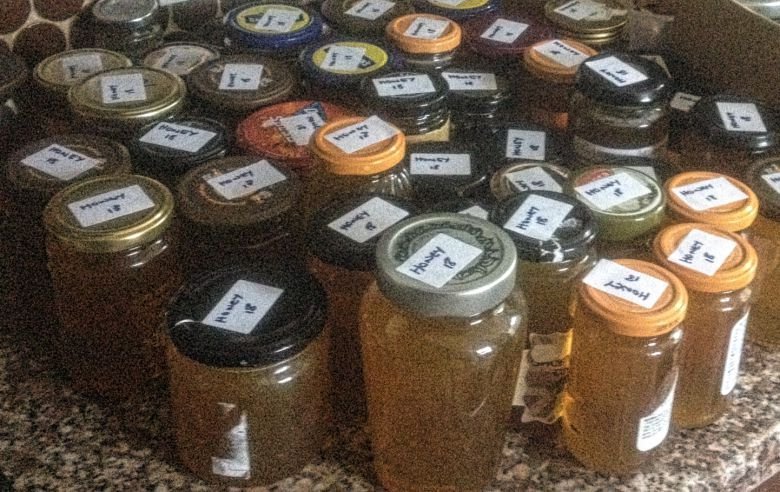 About the author: I am a novice bee-keeper having started shortly after we moved to Kirkennan and find that every year the bees manage to surprise me. I did my training at the apiary run by the South of Scotland Beekeepers Association where I am a member. The Association and other members have been extremely helpful! As well as keeping bees my husband and I run 3 holiday cottages located on a small Scottish Estate. To find out more about these please follow the links below. Or send me a message - I am always happy to hear from people.
The Mews
A cozy 2 bedroom cottage looking out over the landscaped gardens of Kirkennan Estate - a good place to spot red squirrels.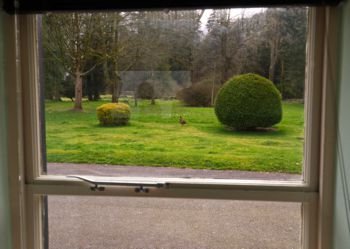 The Lodge
Our largest cottages set in its own large garden looking out over the orchard where the honey bees are located. Sleeps 5 & 2.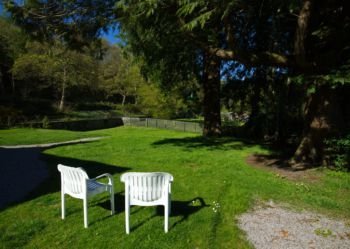 Woodsedge
An accessible cottage all on one level which sleeps 5 and is located near to our 14 acre riverside woodland - a great place to walk dogs and spot wildlife.