I was feeling a bit down this week so thought it was time to have a go at something I have been intending to try for ages - forest bathing. According to research, spending time in forests or with trees can improve our health and wellbeing. This is something I have never doubted, but I tend to have a purpose when heading into the trees: going for a jog or a walk, to fill up the bird feeders or to spot birds. This time I intended to really slow down and focus on the moment.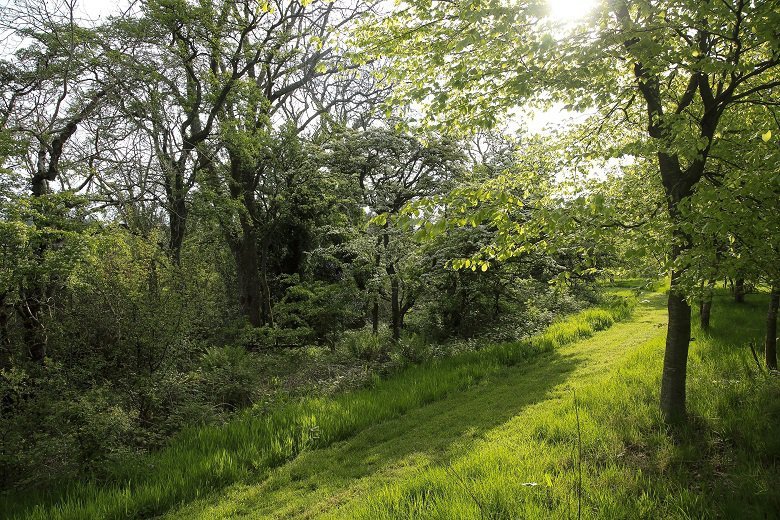 What is forest bathing?
Forest bathing is simply taking time out to connect with nature by mindfully immersing yourself in a forest or wood to relax your mind and give you a sense of well-being. Like me, you might assume you have been doing this for years, but it isn't quite the same as going for a quick walk for exercise. It means deliberately slowing down and using all five senses to bridge the gap between yourself and the natural world.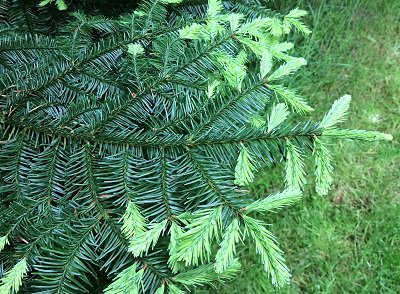 The concept has its origins in an ancient Japanese religion, but its modern form and name date from 1982 when the Japanese government began to notice the harmful effects the technology boom was having on city dwellers. People were showing signs of burnout; sickness, stress and depression. They called these symptoms "karoshi", which translates to "death by overwork". In response, Japan launched a national health programme called 'Shinrin-yoku' from 'shinrin' meaning 'forest' and 'yoku' meaning 'bath'. 'Forest bathing' means immersing oneself in the forest atmosphere or taking in its ambience through our senses.
What are the potential benefits?
Most of us know intuitively that being in nature can make us feel better; the sound of the wind and birds, the scents of different foliage or flowers, the warmth of sunlight on our skin, the fresh air - all can all give us a sense of wellbeing, help us relax and think more clearly. This has become particularly clear during the COVID-19 lockdown when many people have had little contact with nature and have found out how much they miss it. These positive health and mental well-being effects have now been confirmed by scientific studies which have found that forest bathing can reduce blood pressure, lower cortisol levels and hence stress, and improve mood, concentration and memory. Furthermore, according to Japanese scientists, trees and plants release oils called phytoncides to protect themselves from harmful insects and germs which also help boost the human immune system.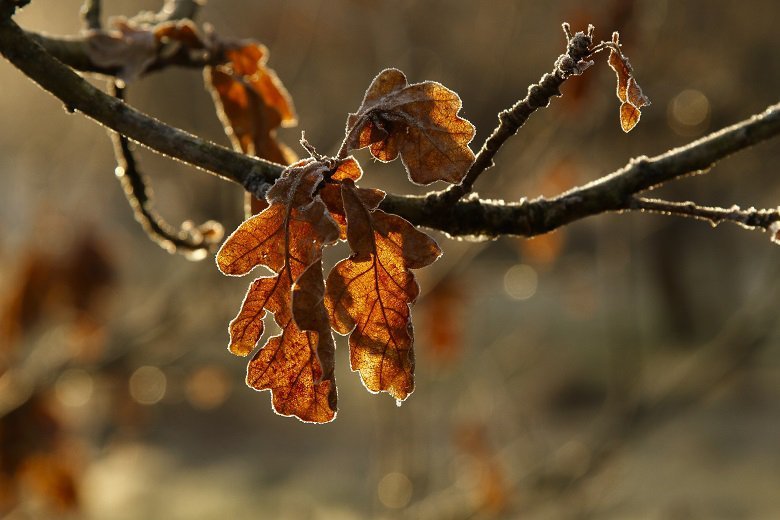 How to do it
Forest bathing is no more complicated than simply going for a slow wander in your local woods or park. But rather than walking for exercise, take the time to really focus on the natural world around you: from the rays of sunlight catching the leaves to birdsong echoing from the canopy.There are no real rules but guidance generally suggests the following:
· Leave your phone or camera behind, or if that is impossible turn them off. The point is to focus on where you are and what is happening at that moment, not what is happening elsewhere or capturing an image for later use.
·Try to choose a quiet location or time of day so you are not disturbed or made to feel self-conscious by others.
·Don't plan a route. Walk slowly and aimlessly taking your time and allowing your body to be the guide.
·Focus on slowing down your mind and body. It might help to take long breaths making the breath out twice as long as the breath in.
·If you feel like it stand still, or sit or lie down.
·Take as long as feels comfortable.
Whilst in the trees focus on your senses:
·What can you hear? Listen for bird song and whether you can pick out different patterns. Is there any movement in the undergrowth? Do different trees make different sounds when the breeze passes through them? Liu Chi (1311-1375) wrote that 'nothing is better suited to wind than the pine.' Do you agree?
·What can you see? Look for the different shades of green, the shape and motion of leaves, the pattern of branches or trees, buds starting to break – once you start to look there is so much to take in.
·What do things feel like? Try touching the bark of a tree or taking your shoes off to feel the ground under your feet. Can you feel the caress of the breeze? From which direction? The sun on your skin? Dip your fingers or toes in a stream. How does it feel?
·What can you smell? Breathe in the fragrance of the forest. Sniff at a plant or bark to see if it has a scent. Can you smell damp soil or the heat of the sun on grass?
·Can you taste the freshness of the air? Take deep breathes to savour it.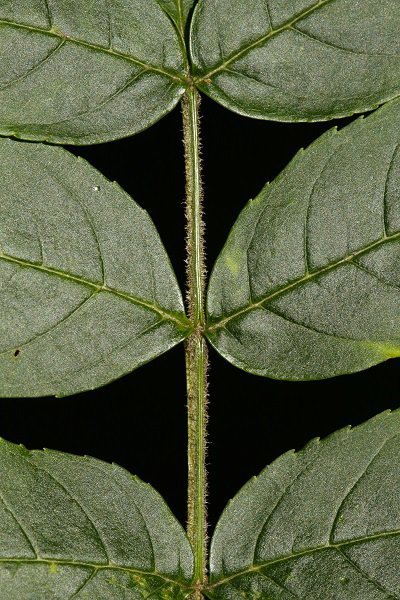 My experience
We are incredibly lucky at Kirkennan to have a choice of woodland walks from the door. I try to go jogging two or three times a week in Kirkennan woods opposite the estate where I rarely meet anyone. However, just occasionally, I do come across someone else there, usually walking a dog - and this has been slighly more frequent during the lockdown. For my trial of forest bathing I really did want solitude so I decided to head to our own 14 acre Jock's wood where I knew I would be undisturbed.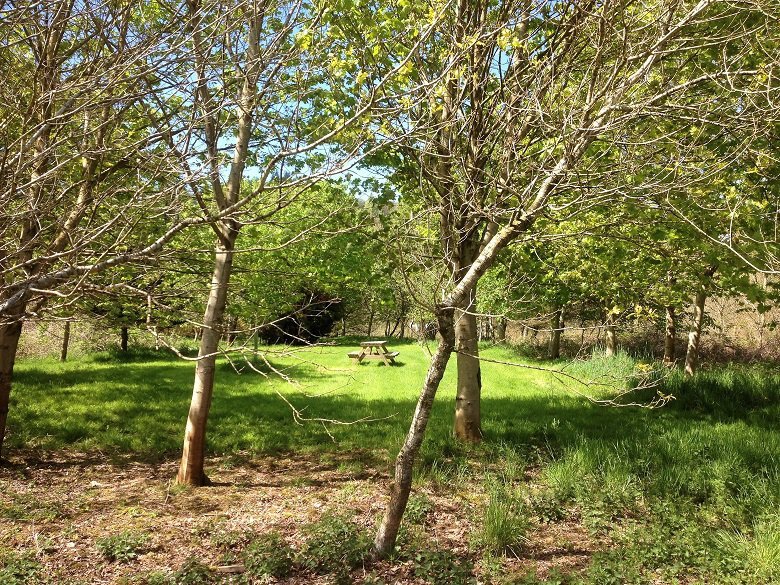 The great thing about having a wood in your own back yard is that you can visit it easily at any time of day. I have occasionally, though rarely, got there in time to hear the dawn chorus which can be astounding but rather early at this time of year! More often I visit late afternoon once my daily jobs are done, or in the evening just as the light begins to fade. Normally I head to Jock's wood to fill the feeders, read in our riverside hut, go for a walk or to watch the birds. This time I was purposefully trying to be purposeless.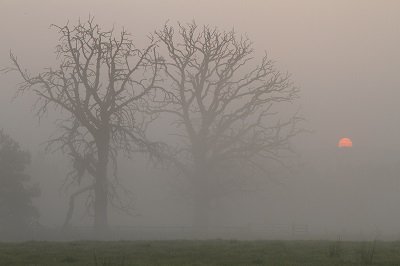 I don't find it easy to fully concentrate on the moment. As we run a small family business from home and I deal with the marketing and much of the administration, I try to keep my mobile phone on me at all times – I don't want to miss a booking for one of our holiday cottages just because I am enjoying myself forest bathing. However during the current COVID19 lockdown my phone has been ringing more often for cancellations than new bookings so I decided I could tear myself away from it for a short while and left it in the house.
Then, as I started to immerse myself in Jock's wood, my marketing brain kept switching back on and distracting me. Our private 14 acre woodland is such an asset for guests staying at our cottages as it makes early morning or late evening excursions into nature so easy, that I started thinking about phrases and photos to highlight its attractions. The only way I could turn that niggling voice off was to tell myself I would write a blog in due course (i.e. this) and would come back later for the specific purpose of taking accompanying photos.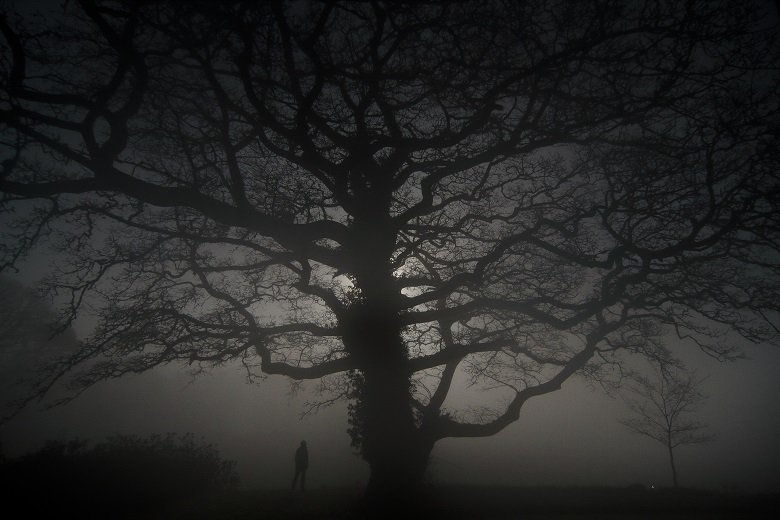 Once I finally managed to put aside my phone and turn off the marketing brain I found forest bathing a delight. Spring is a wonderful time to try it as the bird song and new leaves can be quite mesmerising, and the day I went the temperature was benign. I chose to go just before dusk as I find the crepuscular light helps me to slow down. As I walked from the house to the wood I disturbed two rabbits that went racing across the lawns – one black, one traditional brown with a white tail. In the wood I was very aware of the sounds made by trees interpreting the light breeze passing through their emerging leaves in their own unique ways – a phenomena known as psithurism. In the half light shapes were aslo very prominent; as the light faded tree silhouettes became more pronounced against the sky, particularly those of Ash, always late to break bud. My wanderings disturbed a roe deer more heard than glimpsed in the gloaming. Fortuitously I had picked a supermoon night, and as it rose it started to throw moon shadows whilst moth ghosts flitted in and out of view. It was almost midnight by the time I tore myself away in a much more peaceful frame of mind.
So my conclusion? Yes it did make me feel better and yes I do intend to do it again at all times of year. Part of the pleasure will be in really focussing on how things change through the seasons. I do recommend giving it a try.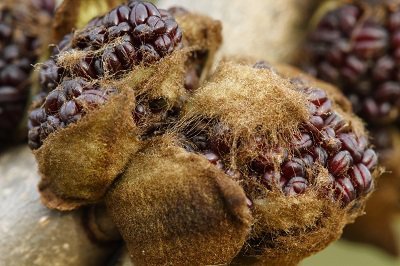 About the author: Jennifer Chapman
Along with my husband I run the 74 acre Kirkennan Estate where we moved in June 2013. We try to run the Estate to encourage nature and wildlife. Within the grounds we have 3 holiday cottages as mentioned above for which I do the marketing. If you would like to find out more about Kirkennan please take a look at our website, send me an email or give me a call. If you get the ansaphone please just leave me a message and I will return it in due course. Eespite the demands of running a small family business I might still have turned my phone off for a while because sometimes doing nothing is just more urgent.
Cosy holiday cottage sleeping 4&1 in 2 bedrooms looking out over lawns and trees.
Level access holiday cottage sleeping 5 in 3 bedrooms looking out over fields and woods.
Detached holiday cottage sleeping 5&2 set in a large garden overlooking the orchard of Kirkennan's walled garden.