Do you enjoy gin? Do you appreciate products made with passion and attention to detail? Do you like to support small local businesses? If so a tour of Crafty Distillery near Newton Stewart might be for you...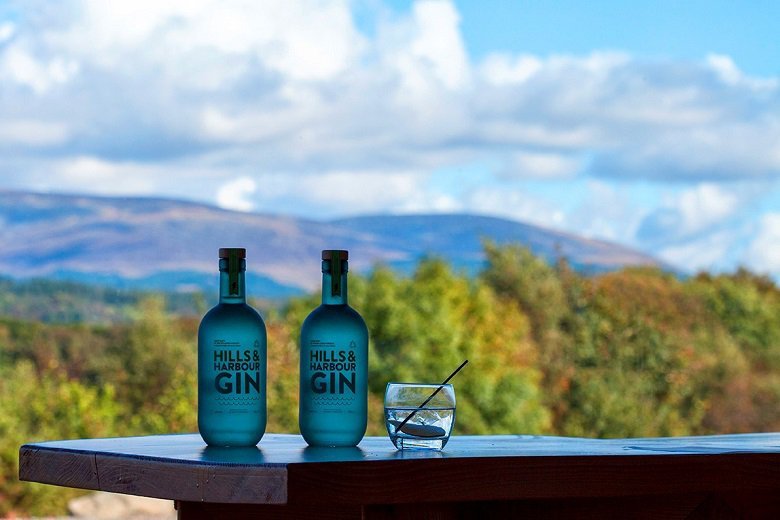 I've been watching the progress of Crafty Distillery with interest ever since they sent out a call for 400 volunteers to help them choose between recipe options for their new gin a couple of years ago. To my disappointment I wasn't chosen, but that didn't stop me wanting to taste the resulting gin recipe which became Hills and Harbour, particulary when I heard that two key botanicals were locally harvested Noble Fir needles (the 'hills') and Bladderwrack seaweed (the 'harbour') selected with the advice of Dumfries & Galloway's resident professional forager Mark Williams. So I was full of anticipation when I was given a voucher for a tour of the distillery, and I was not disappointed.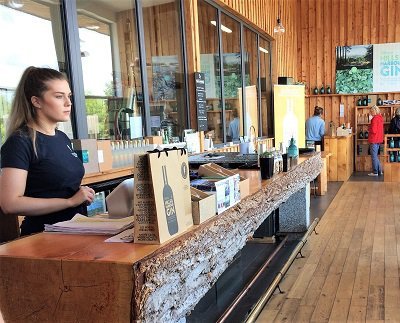 Crafty Distillery is a small but growing business – founded and owned by Graham Taylor who has a background in design and branding, alongside life-long friend Craig Rankin who previously managed high-end bars and hotels in Glasgow. They both grew up in the area and are self taught in the art of distilling and have co-developed everything you see and taste. The distillery building and interior was designed by Graham and built by his father Billy.
Their attention to detail is evident in every aspect of the enterprise – from the story behind the bar counter (made from a single trunk from the nearby Galloway Forest), to the effort gone into designing the bottle - a beautiful hue of greeny-blue that captures the concept of hills and sea.
Crafty Distillery is built on a hillside just outside Newton Stewart and offers great views over the Cairnsmore and surrounding hills. It is an ideal location to stop for lunch and is becoming quite well known for its 'picnic basket' offer of local produce which can be enjoyed with or without the gin cocktails on offer. Its scenic location, friendly staff and interesting tour along with its quality product all contributed to it being selected 'Scottish Gin Destination of the Year' in 2018.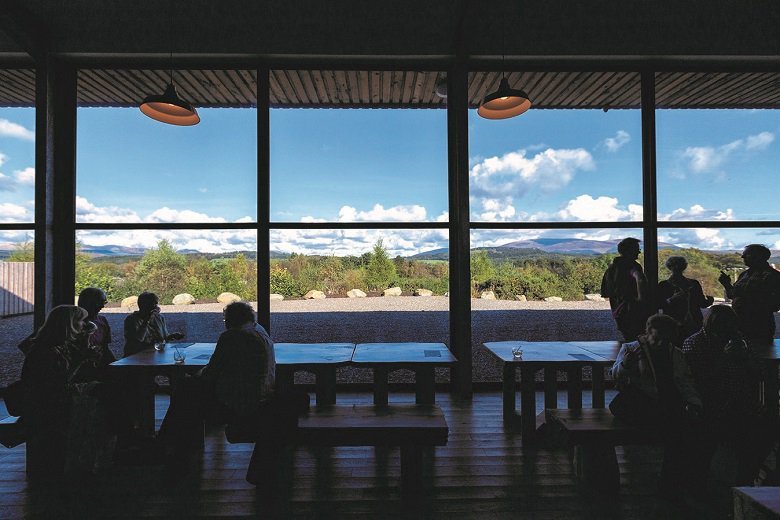 There seem to be new small scale gin makers popping up all over the UK at the moment, many making excellent gin. What makes Crafty Distillery distinct is that it makes its own base spirit – most buy in a Neutral Grain Spirit to which they add botanicals.
The base spirit by law has to be distilled to a minimum of 96% ethanol and you might expect it to be fairly flavourless liquid. However, the remaining 4% can make quite a difference. The Gin Foundry talk about the 'undercurrent that murmurs gently below the surface' in gins made with an in-house base. Crafty Distillery say their base adds a smooth and delicate sweet flavour. The tour starts by explaining the process of making the base spirit from wheat bought from a local farmer. This is quite a complicated process of milling, mashing, fermenting and distilling. This is then flavoured with re-distillation with the botanicals which give Hills and Harbour its unique flavour.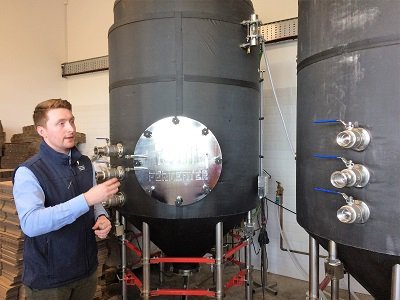 I found the opportunity to hear about and smell these botanicals a particularly interesting part of the tour. Coming up with a mix that works is an incredibly skillful task and is fundamental to the final product. Craig Rankin, the distiller spent 14 months and tried more than 90 recipes of which three were tested on the 400 volunteers mentioned above, to come up with the final blend for Hills and Harbour.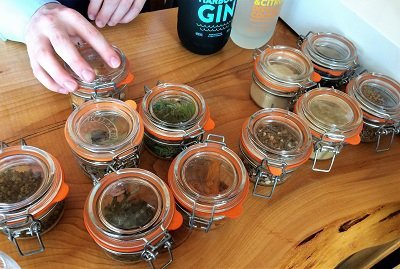 According to Crafty Distillery: 'To ensure vibrancy, all five basic tastes are hit with elements of sweet (mango), sour (orange), bitter (local Noble Fir) salt and umami (local Bladderwrack seaweed). We also create sensation by hitting the nerves with subtle numbing green Sichuan pepper and tangy bay leaf.'
It is very much a small scale operation with staff taking the occasional day out to head to a nearby beach with a bag-for-life to collect bladderwrack seaweed, or to the Galloway forest to pick noble fir needles.
Equal attention is given to the provenance of the other ingredients. As with all proper gins, juniper is one of the key botanicals – here they source the best possible berries from Macedonia as local juniper is not available in volume. Finding a reliable supplier of mango dried to just the right toffee like consistency took a lot of effort but eventually the team came across a small producer in Burkina Faso, West Africa, who have become their regular supplier.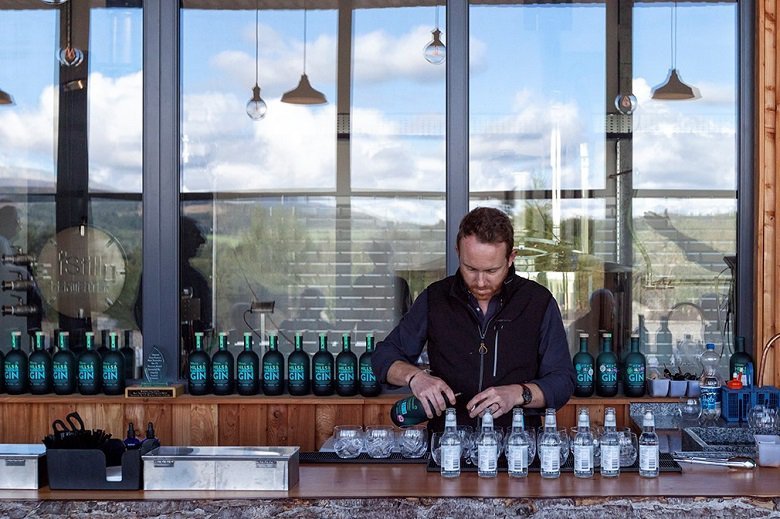 The tour ends with an opportunity to taste a gin and tonic made with the Hills and Harbour gin. This is served over ice with a slice of mango and just the right amount of quality tonic. The gin is quite distinct and does summon the forest, the sea and a hint of citrus. As put by the experts:
On the nose, the first impressions are quite vegetal and savoury – as if the seaweed was flaring out and yet if you linger for just a second, you'll notice the soft citrus underneath as well as something more woody. Layered and intriguing.
To taste, it is a complete and utter flavour explosion, dragging the tongue across the forest (juniper and pine) as it makes its way down to the sea (that seaweed once more). In the process the strong, bitter pine joined becomes ever more saline up to the point where there is a calamitous, but marvellous, umami sensation that emerges. While that's the big sensory action lashing at your taste buds, once familiar with it, it's easy to spot how the sweet, tropical fruit stops it from ever becoming too much of something brutal; it might rolls like the sea, but its calmed quickly by the rest of the botanicals. The finish is satisfyingly dry too, leaving you with an enduring sense of pine. [Gin Foundry 22 May 2019]
I'm not sure my palette or literary skills are up to writing so much about a gin. Suffice to say we thought the gin was great so we bought a bottle which we tried to keep for special occassions with friends, but it is now finished. Having found the description above after the bottle had been drained I think I may need to get another to try to tease out the different flavours described.
All in all we had a most enjoyable tour and would recommend it to anyone interested in gin, small scale enterprises or design. The cafe is also a lovely spot for lunch on a sunny day.
Practical Details
Distillery and café opening hours - Spring & Summer (May to August) - 10am-6pm Monday to Saturday. Tours take place at 11am, 1pm & 3pm daily. Autumn & Winter (September to April) - 10am-5:30pm and tours are reduced to 2 daily at 12pm & 3pm. Crafty Distillery close for the first 2 weeks of January and from there until March the distillery is open to the public Tuesday to Saturday. Tours take around an hour and cost £12.50 which includes a gin and tonic and a taste of their new Smokey Citrus Distilled Cocktail [2019 prices]. It is advised to prebook on 01671 404040. The tours and the café can be enjoyed by all ages and are both wheelchair accessible. Dogs are allowed in the cafe and at the picnic tables outside but not on the tours. There is ample parking outside the distillery.
Crafty Distillery is 37 miles to the west of Kirkennan and can be easily combined with visits to Kirroughtree Visitors Centre, Newton Stewart, Wigtown, Whithorn, Cairn Holy and many other places.
About the author
As well as enjoying a good gin and tonic I run Kirkennan Estate Holiday Cottages with my husband Michael - 3 comfortable cottages set in a beautiful Scottish Estate. If you are looking for a base in Dumfries & Galloway to explore all that the area has to offer then please check us out.