In February 2020 we took the advice of Zero Waste Scotland and replaced the old oil boiler in The Lodge holiday cottage with an Air Source Heat Pump. As we are all being encouraged to move away from fossil fuels to heat our homes we thought it would be useful to share our experience to help others decide if an ASHP is right for them.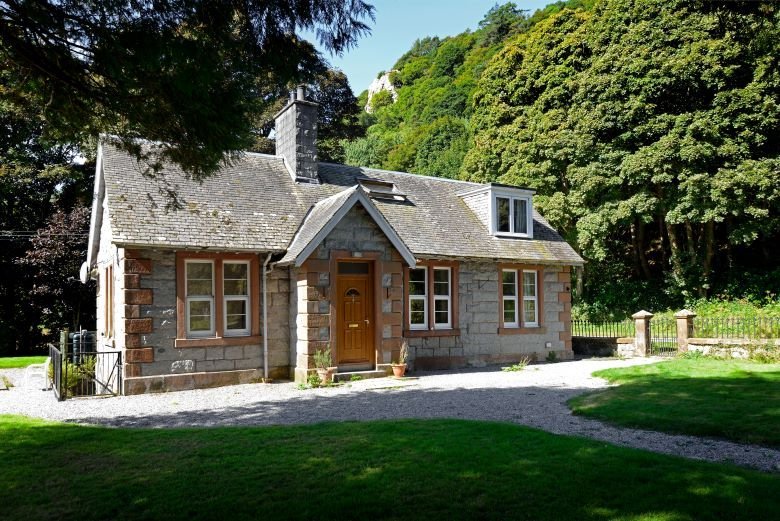 Introduction: retrofitting an air source heat pump in an old building
Kirkennan is a compact Estate of 74 acres in Dumfries & Galloway, South West Scotland near the Solway Coast. It comprises of a main house where my husband and I live, 3 self-catering holiday cottages and one cottage with a lifetime tenant.
Affordable heating and reducing our carbon footprint was a main preoccupation ever since we moved to Kirkennan in 2013. In 2014 we installed a district heating biomass system to serve the stable block comprising 2 holiday cottages (The Mews and Woodsedge) and the cottage let to the long term tenant plus the main house.
One cottage, The Lodge, was too far away to link to this system so for the time being remained on oil central heating.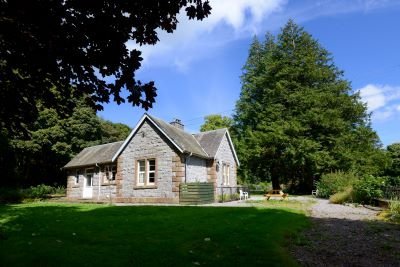 The Lodge is the original gate house to Kirkennan Estate and the core of the cottage must be well over 100 years old (we have deeds to Kirkennan going back to the 17th Century). It was extended in the 1970s to add a modern bathroom and extra bedrooms. The cottage is built from Dalbeattie Granite and has a ground floor plus two 'attic' rooms. It is fully double glazed. Before we installed solar PV in 2019 it was rated D on its energy performance certificate (EPC).
Why air source rather than water or ground source?
In 2018 we requested advice from Zero Waste Scotland as to how we could reduce our carbon footprint at Kirkennan. One of the recommendations was to consider some sort of heat pump to take the Lodge off oil for its hot water and heating. It was suggested that this could be installed in tandem with some solar PV panels to offset some of the electricity required to run the heat pump.
We requested further support to look into this in more detail which concluded that though air source heat pumps are not as efficient as ground or water pumps it would be the most appropriate for our situation due to the following factors:
We didn't have sufficient access to flowing water to make a water source heat pump an appropriate option.
The capital cost was a lot lower than it would be for installing a ground source heat pump making it affordable for us.
The Lodge is our most popular holiday cottage with over 85% year round occupancy and we needed the work to fit around existing bookings with minimum disruption.
We had sufficient space in the cellar of the cottage for all the necessary plant and equipment.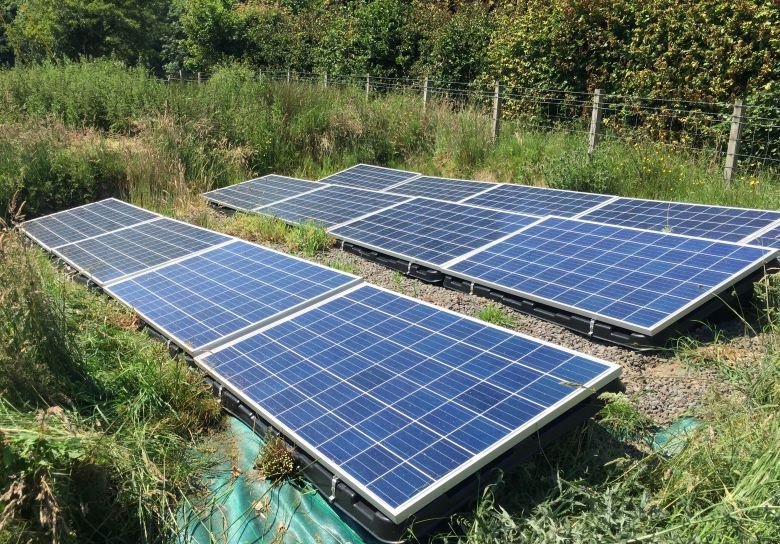 Ordering and Installing the Air Source Heat Pump
I found getting and understanding quotes quite challenging as there seemed to be so many parameters to take into consideration, especially when trying to order both solar PV and the ASHP at the same time. I initially thought it would be a good idea to get both installed by the same people so there was no chance of any problems arising being blamed on the other contractor. However when I tried to find quotes for doing both I was only able to get one quote from a company that was actually prepared to visit the site, something I considered to be essential. As I wanted at least 3 quotes I ended up splitting the task into two with the Solar PV installed first in time to catch the end of the Feed in Tariff (FIT) and the ASHP installed a year later in February 2020. In the end both were installed by the same company as we were happy with their work and their quote was competitive.
Heat pumps work best at a low temperature over a large area. In new builds heat pumps tend to be combined with underfloor heating which gives this large surface area automatically. But in The Lodge that would have required a lot of work and would have been expensive to install. We wanted to use the existing system as much as possible but with the heat pump working at a lower radiator temperature than the oil boiler we required larger radiators. A reputable supplier will take some time assessing the size of the rooms and the size of radiator needed to keep the rooms at an adequate temperature given the expected flow temperature of the ASHP, you should ask to see this calculation. I do know of installations where the heat provided is not proving sufficient for the room requirements in cold weather.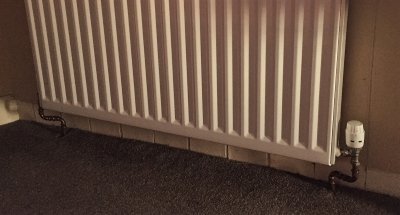 It is worth spending time discussing radiators, their size and design with the contractor as I was able to get the cost down by using much of existing pipe work but putting in deeper and wider radiators with a bend in the pipework. As well as cutting down cost and waste this also cut down on the disruption and the time we had to be closed. Radiators don't look very attractive when you focus on them unless you spend a fortune on designer ones. However no-one has yet commented on the odd bends in the radiator pipework and I very much doubt they have been noticed.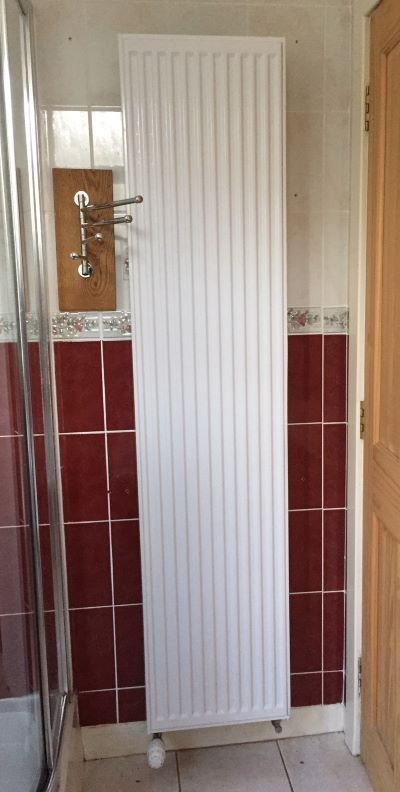 The kitchen was the only place that didn't already have a radiator with associated pipework that could be used. Fortunately by moving the dishwasher we were able to free up space by a wall that the central heating pipework already ran past.
In the bathroom we were told we would need to install supplementary heating but this was got round by putting in a tall radiator which left us to find another way to hang towels without obstructing the door; we managed to do this by fixing a towel rail adjacent to the radiator rather than on it.
The shower ended up being the only unexpected problem during installation as when doing the initial survey the contractors didn't spot that the existing shower was incompatible with the new system as it ran off the old hot water tank that was being removed. It had to be replaced during the installation at short notice. It was essential the job didn't overrun timewise as we had guests due in on the Sunday with the work due to finish on the Friday. In the event after working till 10pm on the Friday one plumber came back on the Saturday to finish insulating pipe work.
If you are installing in a holiday cottage do make sure your installers put in both a meter on the ASHP heat produced and a meter on the electricity going in to the ASHP and provide you with the required paperwork. You wont need any of this unless occupancy falls below 183 nights - something we would never have expected until COVID struck. But as we were forced to be closed for considerable periods during 2020-21 our occupancy fell below the required threshold and we had to provide this to find only one of the required meters had been fitted, To get this sorted and the required paperwork took months during which we lost RHI payments.
Operating the ASHP
My induction to operating the system took place at 10pm on the Friday night when everyone was tired and keen to get home. As a result I am not sure I took everything in and I am still learning. The following observations may be helpful to other newbies:
The ASHP is relatively quiet. I was concerned about the noise of it operating, but in practice it is no noiser than the old oil boiler. It is operating over a longer period over the winter especially but wont be on for long when people are likely to be sitting outside which is the time when they are most likely to notice its sound. We have yet to have any complaints or even comments from holiday makers about the noise.
There are three setting for the heating. In what I believe are descending orders of efficiency these are curve (which does something complicated in comparing outdoor and indoor temperature to work out how hot to run the water through the radiators); room temperature (which judges the flow heat required to get/keep the room temperature at the desired heat) and flow temperature (which sets the temperature at which water runs through the radiators). Initially the system was left on curve setting which possibly works well for new build with super insulation, but for us it was taking too long to get cottage up to a comfortable temperature. From the Friday evening when it was first operational to the Saturday evening before guests were due in I was checking the room temperature hourly to find it was barely creeping up. By this time I was starting to worry that it was never going to warm enough for the guests due at 3pm the next day. After a few panicked phone calls to the installers I was advised to put it temporarily on a flow temperature of 50C to speed up the heating. This worked out fine. Now we run it on the room temperature setting and have had no problems.
The system we have comes with an App which allows me to control it remotely. This is useful if I want to shut the holiday cottage down whilst we are away or without entering (particularly helpful during the COVID pandemic). It also means if guests hike the heating up, open all the windows and then go out for the day I can reduce the temperature remotely (fortunately a rare occurrance). The App is not entirely intuitive and it is a good idea to check it is actually doing what you think it is doing. For example during the COVID pandemic we had guests leave with no-one expected in for a while so I remotely turned the heating off and left the cottage for a week before entering to be super safe about infection. What I hadnt realised is that turning it 'off' on the App only works until the next instruction which was to drop to 16C at night then back up to 19 the next morning. This wouldnt have been too bad if the departing guests hadn't inexplicably left both the freezer and fridge wide open but still switched on. So we had a full week of the ASHP fighting to get the temperature up against the freezer fighting to get the temperature down and a higher than expected electricity bill.
There is a frost setting which will kick in if the system is off but the temperature drops below a certain set level.
The system runs a periodic legionella prevention programme which heats the hot water up to 60. This had been set to midnight but I have now changed this to midday when we are most likely to have spare solar PV electricity.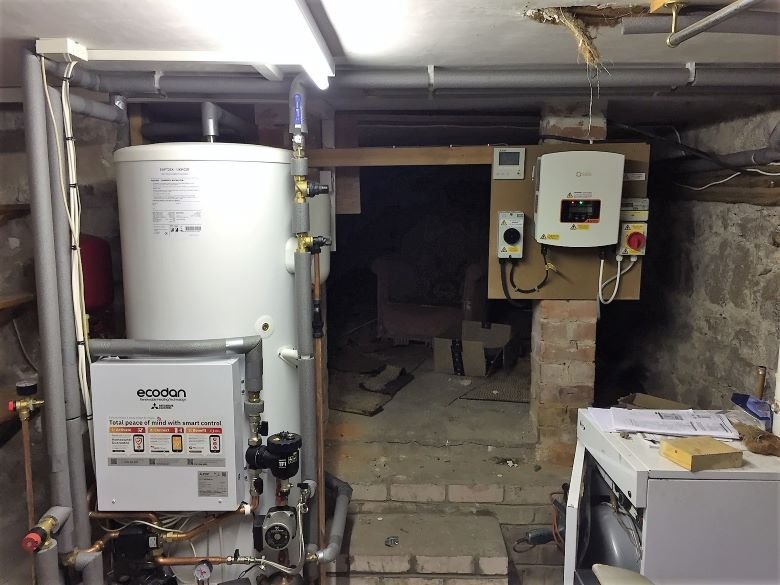 The money side: installation costs
Costs and the available subsidies change all the time so it is important to check what is available at the time you are thinking of installing an ASHP. We put in a 9.6kW Mitsubishi Ecodan which has a Seasonal Coefficient of Performance (SCOP) of 3.57 - this means that on averate for every 1 kWh of energy put in it on average the ASHP will output 3.57 kWh of energy. It operates more efficiently at higher temperatures. The overall cost was £11,350 including the cost of changing the radiators. Set against this we are able to claim a Renewable Heat Incentive (RHI) of 10.71 p/kWh generated for 7 years. As the cottage is a holiday let this depends on the number of nights occupied. If occupied less than 183 days in a year the payment is calculated based on kWh generated up to a maximum of the energy required to provide heat and hot water to the house as stated on the EPC. If the cottage is occupied for more than 183 nights it is assumed that that amount will be used and the capped amount will be paid - in our case this is £1270 per year. The EPC estimate was somewhat less than that of the ASHP engineers so be sure to use this one in any payback calculations - the initial quotes I got did not.
For us the RHI doesn't entirely cover the capital cost, though if we had not had to replace the radiators it would have come close. What is not factored in to the figures in the table is that we would probably have had to replace the oil boiler during this period in any case and that oil boiler maintenance and servicing is more expensive.

Due to COVID interuptions we have not yet run the ASHP for a full year of normal operation so do not have fully accurate running costs. The table shows the estimated running costs taken from the quote we accepted and the actual running costs to date. You can see that the running costs were expected to be about 10% higher than the cost of oil in terms of electricity consumed, though this calculation does not take account of the electricity contributed by the Solar PV panels. I had expected that both oil and electricity would rise in price though in practice over 2020 oil dropped in price, though it has risen since, whilst electricity has risen - again there has been some COVID influence on this.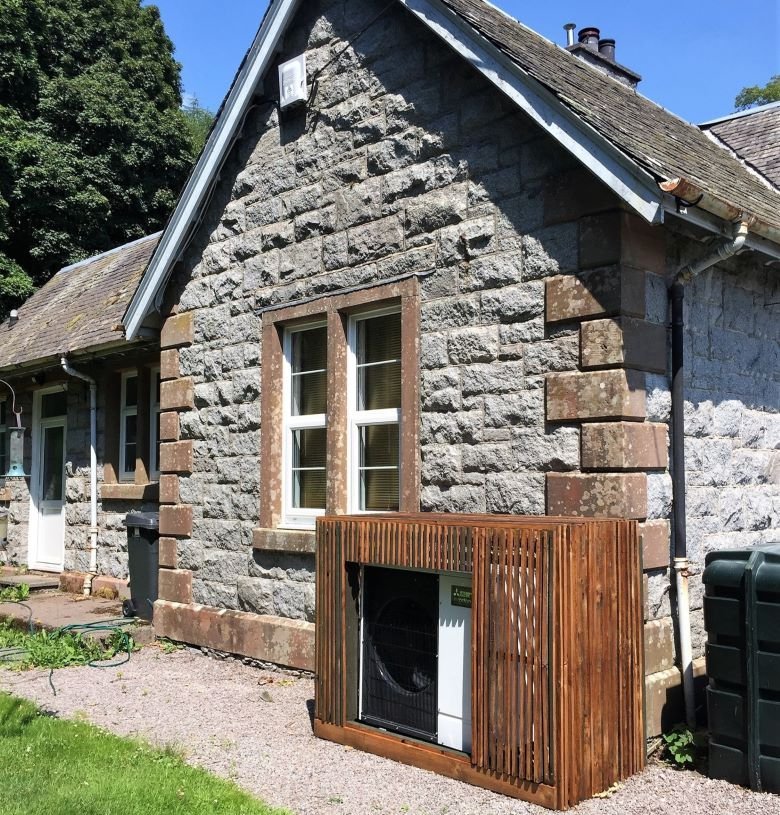 To compare actual running costs with the oil central heating system I combined the total spend on electricity from the previous year with an average of spend on oil over 2 years to smooth out the 'lumpy' nature of its purchase.
Being all electric it is quite easy to work out the cost per booking – something it was much harder to do with oil. This allows us to check we are still covering our costs during off season bookings in the winter when the weather is colder so our heating costs are higher but we reduce our prices to try to ensure occupancy. As we haven't yet run it for a full year and as this year has been rather unusual with both lockdown and many COVID cancellations these figures are only approximate as yet but it looks as though the cost of electricity for hot water, heating, lighting, cooking etc varies from around £21 per week in the summer to around £45 a week in the winter, with keeping the cottage ticking over on frost setting when the temperature falls low can cost around £15 per week. I expect to be able to refine these figures in the future.
Next steps
We are always looking to reduce our carbon footrpint further so in 2020 I requested further support from ZWS which concluded:
-It would be worthwhile adding a battery to the system so we are able to make better use of the PV Solar electricity produced in running the ASHP. Our application for an interest free loan from Zero Waste Scotland to purchase and instal this has just been approved so we will share our experience in due course.
-It could be worthwhile putting additional insulation in the floors in the two rooms that still didnt have it. The payback period for this was estimated to be approximately 16 years. This has now been done using an interest free loan with cashback from ZWS.
I am always happy to discuss our experience and what we have learnt with it with anyone thinking about installing and ASHP. If you are staying at The Lodge and would like a tour of the ASHP please just ask.
About the author
Together with my husband I run Kirkennan Estate Holiday Cottages - 3 Green Tourism Gold rated holiday cottages in SW Scotland. I am passionate about working to reduce our carbon footprint at the Estate and to increase its ecological diversity. There is much we can still do, only limited by funding and time! You can find out more on what we have done on our Green Tourism webpage and more about our holiday cottages using the links below.
The Mews is our smallest cottage sleeping 4&1 in 2 bedrooms. It has heat and hot water provided by a district heating biomass system.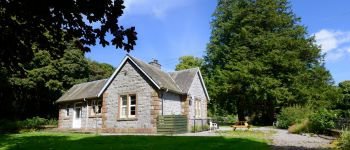 The Lodge is our largest cottage sleeping 5&2 in 4 bedrooms. This is where the ASHP has been installed. Guests at The Lodge are welcome to have a tour.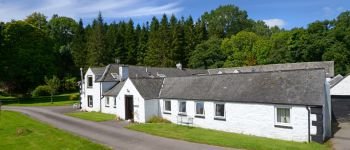 Woodsedge has 3 bedrooms and sleeps 5 with level access throughout. It also has heat and hot water provided by a district heating biomass system.